Turning Point: Valenzuela City 2015 in pictures
2016-01-15

Caption

2015 is a real turning point in Valenzuela City's history. In this photoessay, we take you to a visual tour of the past year, through events that have forever changed the course of its history and the moments that offer glimpses to its future.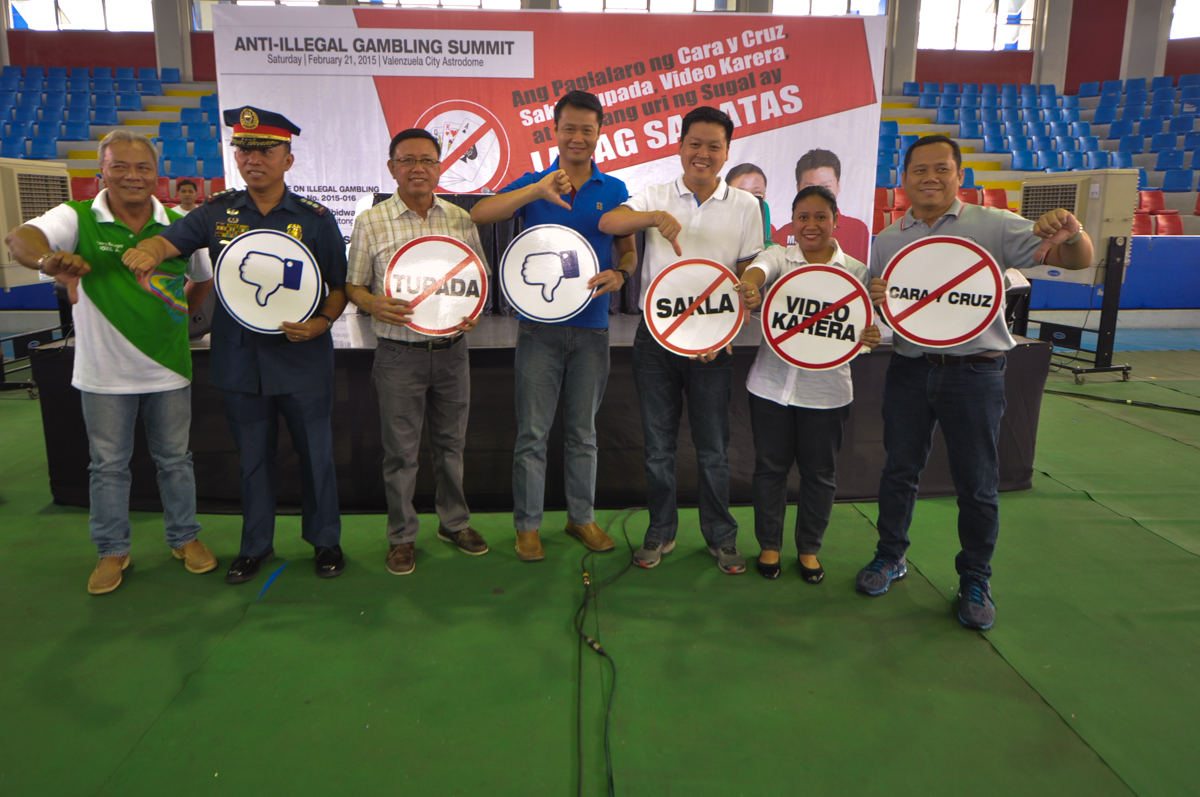 VALENZUELA DISLIKES SAKLA. City Mayor REX Gatchalian (third from left) and city officials hold icons expressing their disapproval of illegal gambling games, during the Anti-Illegal Gambling Summit at the Valenzuela City Astrodome, January 21, 2015. The police reported games such as sakla, a card game of Spanish origins played during wakes, persist in the city and are often held in broad daylight despite laws prohibiting illegal gambling. Officials of the city government and police appealed to representatives of various sectors to support its crackdown against illegal gambling, which Mayor REX called "agent that undermines the family." PHOTO BY RODRIGO DE GUZMAN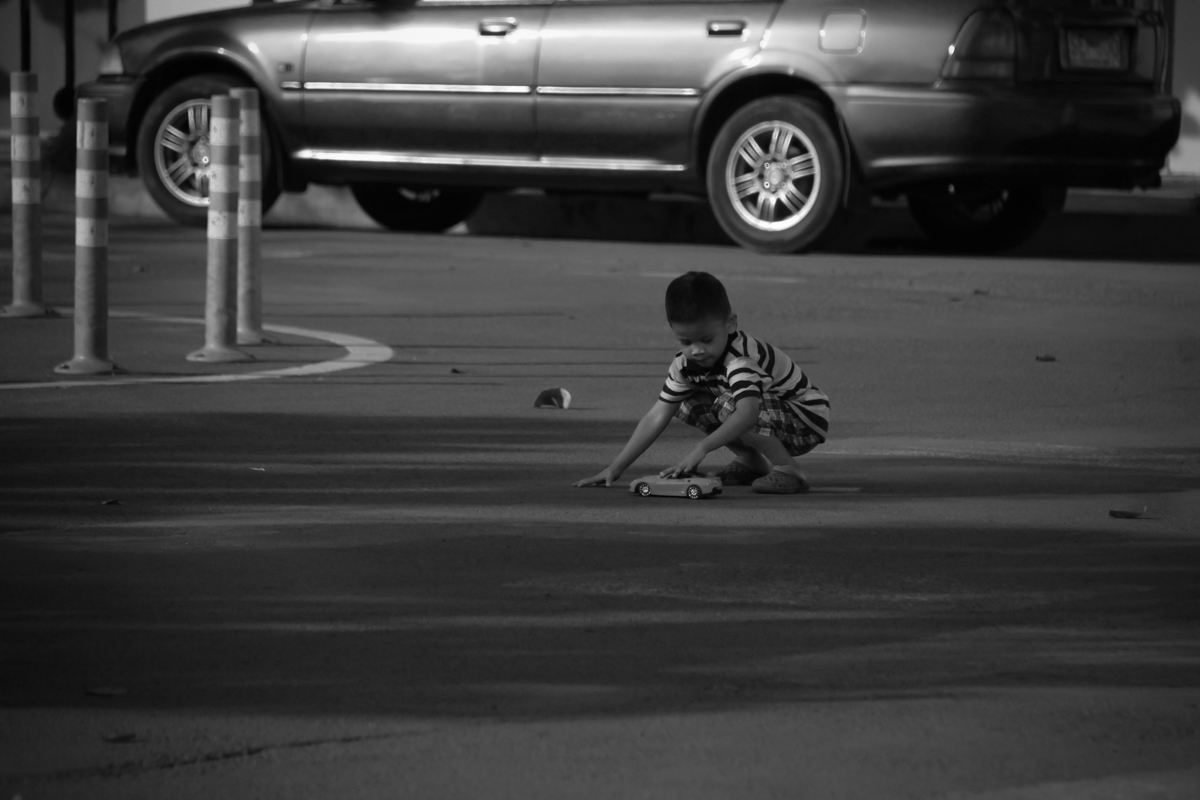 EARLY ASPIRATION. A toy car provides a moment of fun for a boy at the parking grounds of the Valenzuela City Government Complex, January 16, 2015. In the Philippines, car ownership has been viewed as a status symbol, an attitude that many observers believe has led to traffic jams on urban main thoroughfares that last hours. The Philippine Statistics Authority reports that passenger cars in the country in 2014 number around 868,100. PHOTO BY RODRIGO DE GUZMAN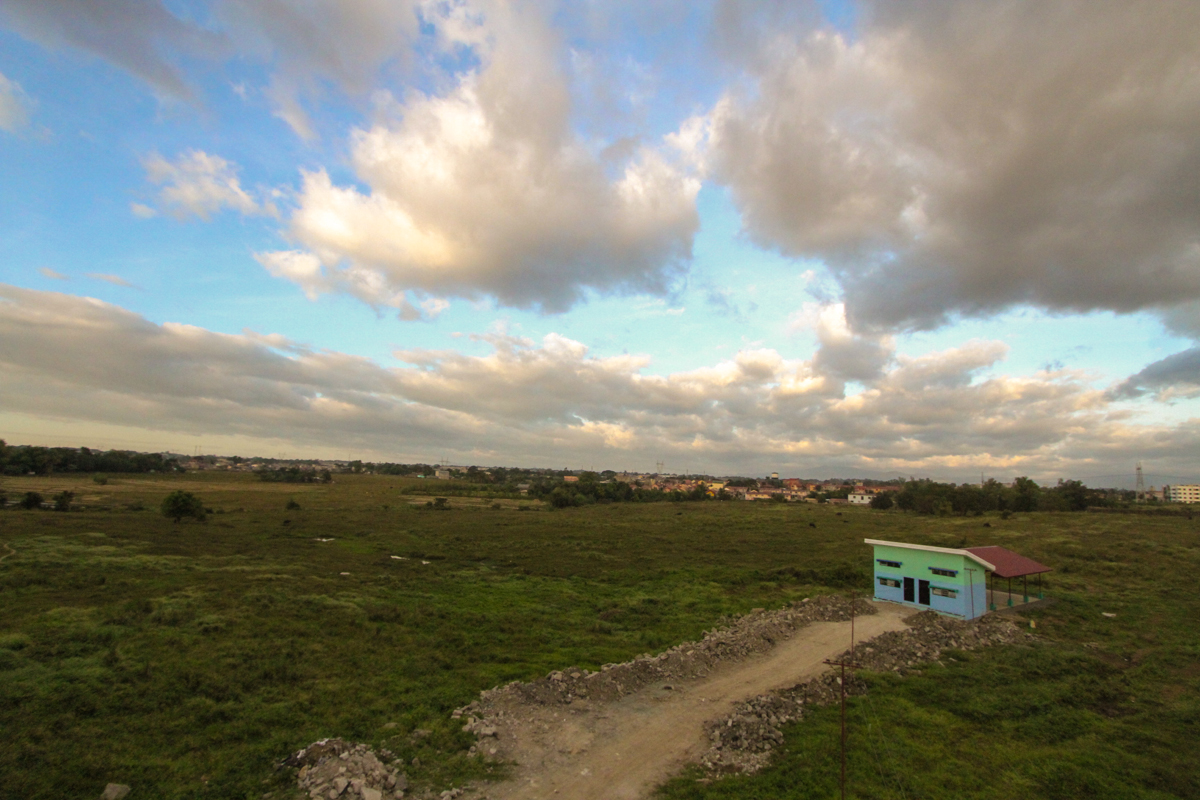 LITTLE HOUSE ON THE PRAIRIE. What would later become an 11-hectare social housing project for the poor is, for now, a model unit future residents see during visits. A project of the National Housing Authority and the city government, the Disiplina Village in Barangay Bignay is the second social housing project in Valenzuela City for informal settler families living in "danger zones" – creek and river banks where they run the risk of being washed away when it floods. It is expected to be a model community with complete facilities for more than 3,800 families as it opens in 2017. PHOTO BY RODRIGO DE GUZMAN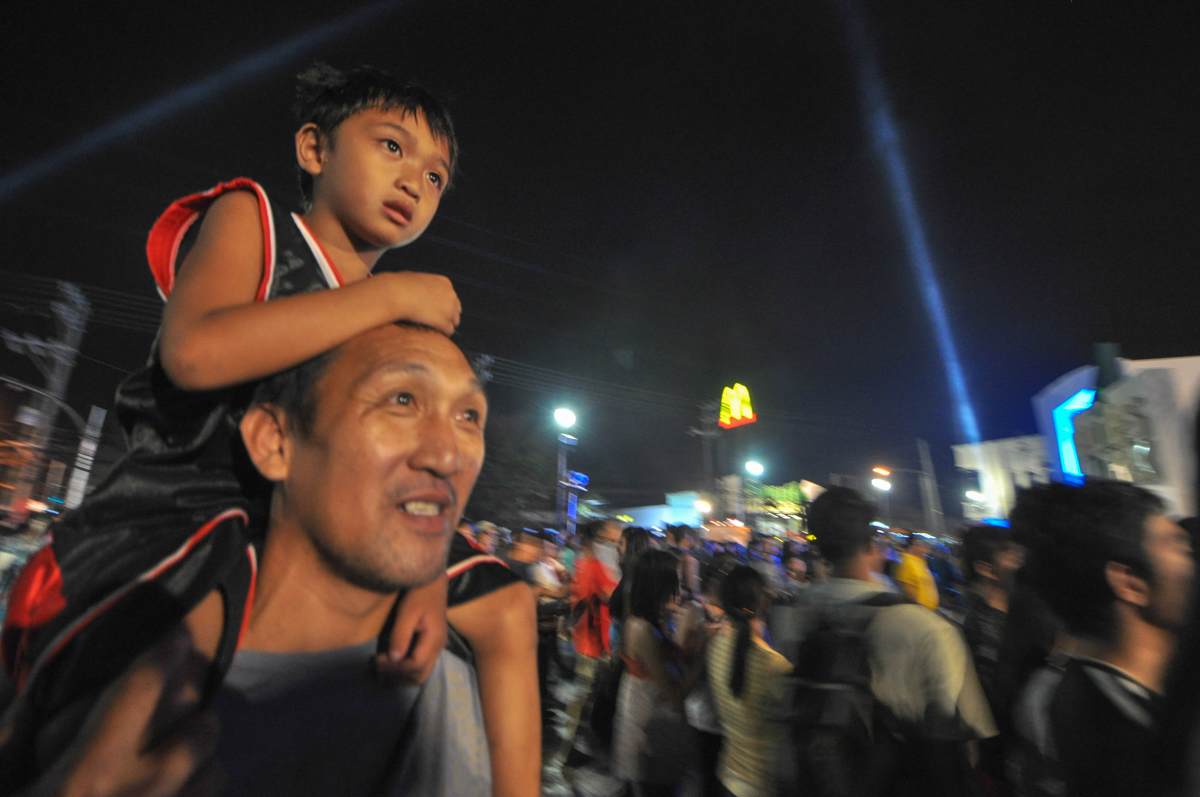 NOW, THAT'S A VIEW. A boy finds the perfect seat at the opening of the Valenzuela City People's Park in Barangay Malinta, February 14, 2015. The 1.3 hectare park built and run by the city government is the grandest of its kind in Northern Metro Manila today. Its many attractions include the dancing fountain at the entrance, lit with multicolored electric lights; and the 1,200-seater Amphitheater with a clam shell-like PVC roof. PHOTO BY RODRIGO DE GUZMAN.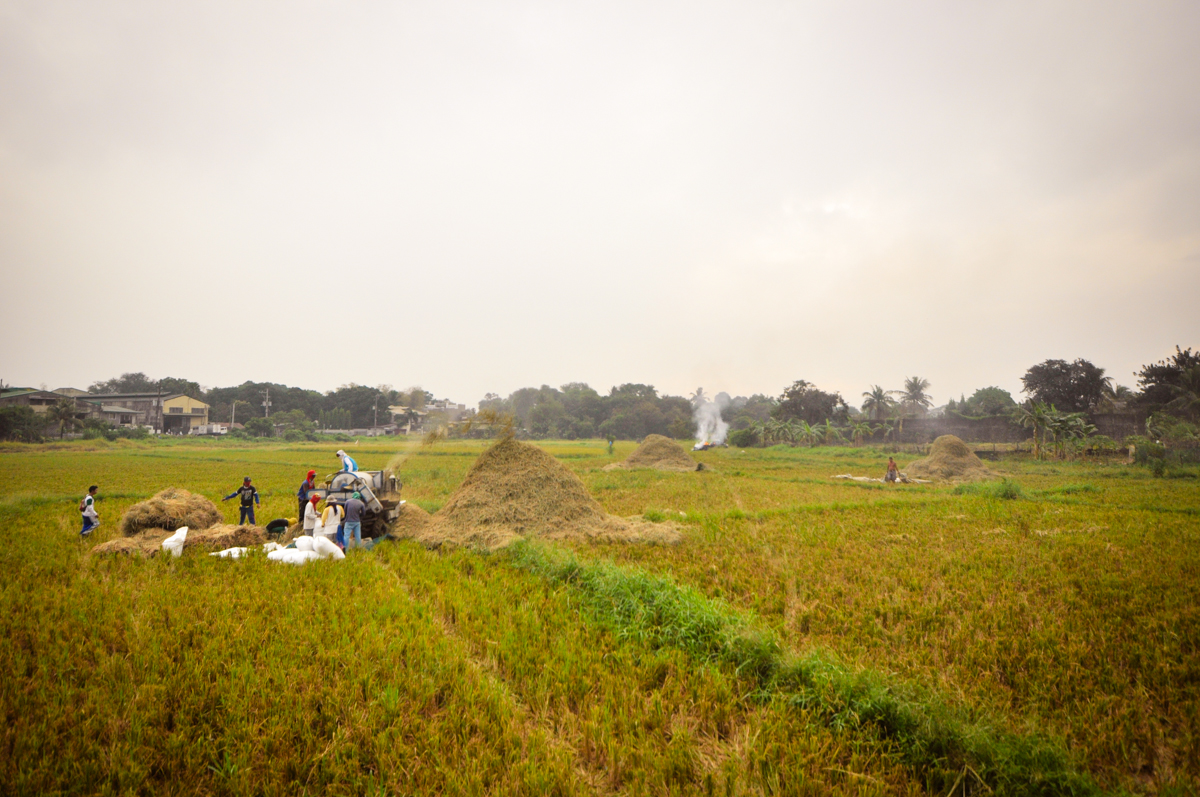 VALENZUELA'S LAST FARMERS. Farmers thresh rice grains in a field along Maysan Road, a major thoroughfare in Valenzuela City, March 3, 2015. The City Agriculture Office reports at least 30 hectares of land in Valenzuela, an industrial center, are used for rice and corn production. PHOTO BY RODRIGO DE GUZMAN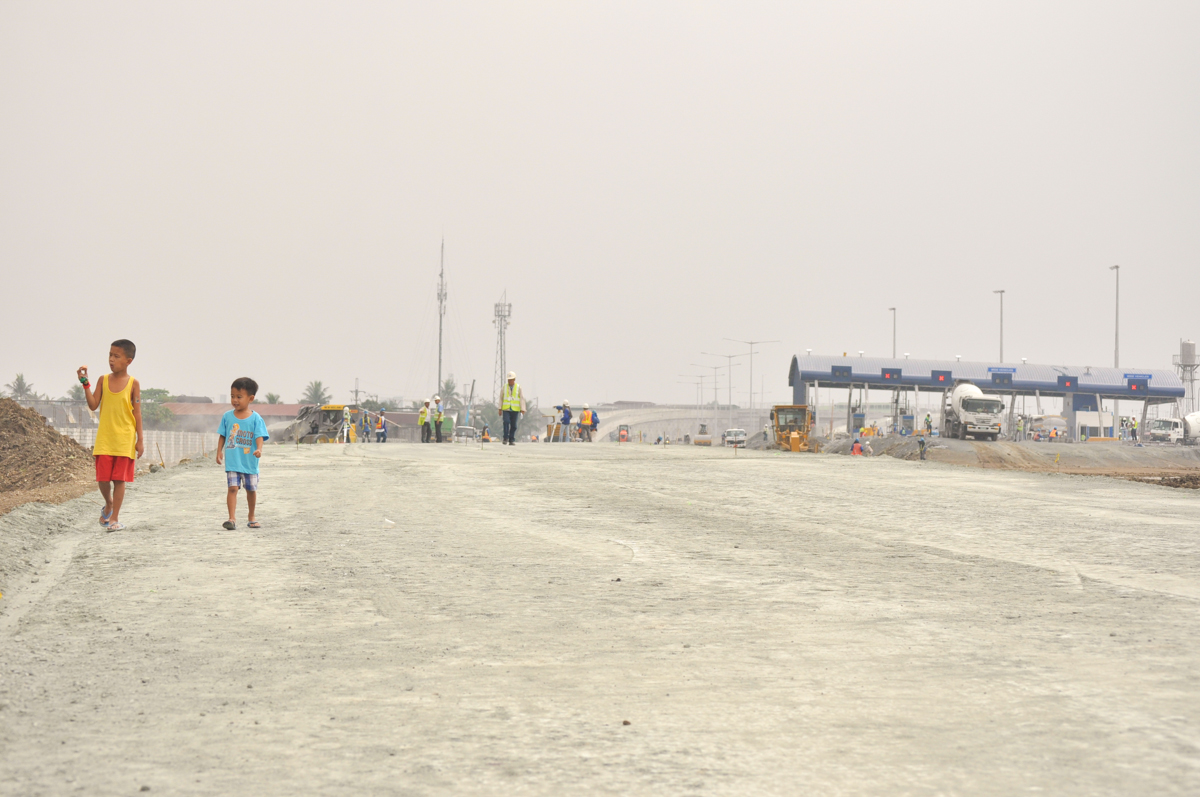 VAST POSSIBILITIES. Construction continues at the Segment 9 of the North Luzon Expressway, March 12, 2015. The highway, which would be inaugurated on November, connects the Caloocan-Malabon-Navotas-Valenzuela area to the North Harbor in Manila City. PHOTO BY RODRIGO DE GUZMAN.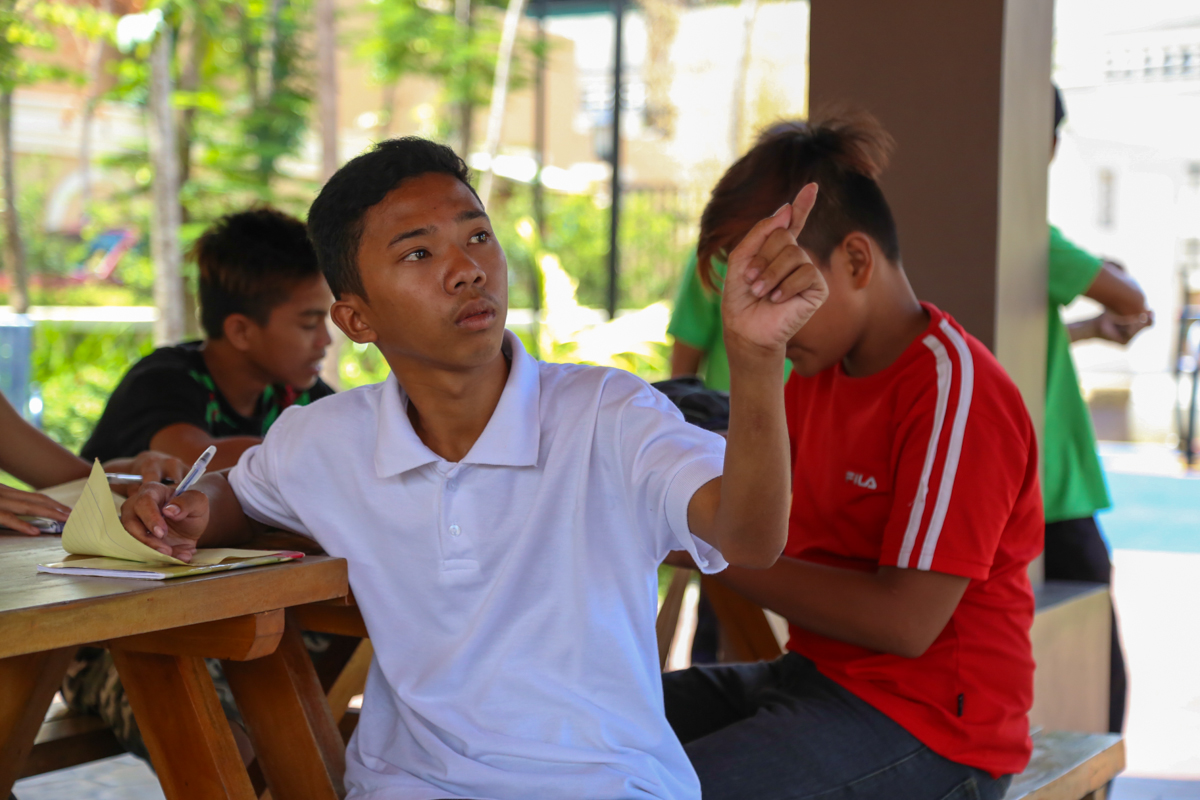 EDUCATION FOR ALS. The gazebo at the Valenzuela City People's Park becomes a classroom for 71 students of an Alternative Learning System class, June 4, 2015. ALS is a program of the Department of Education that allows out-of-school youth and adults to continue their elementary and high school education. The class held at the People's Park is meant to make ALS accessible to more out-of-school youth. PHOTO BY RODRIGO DE GUZMAN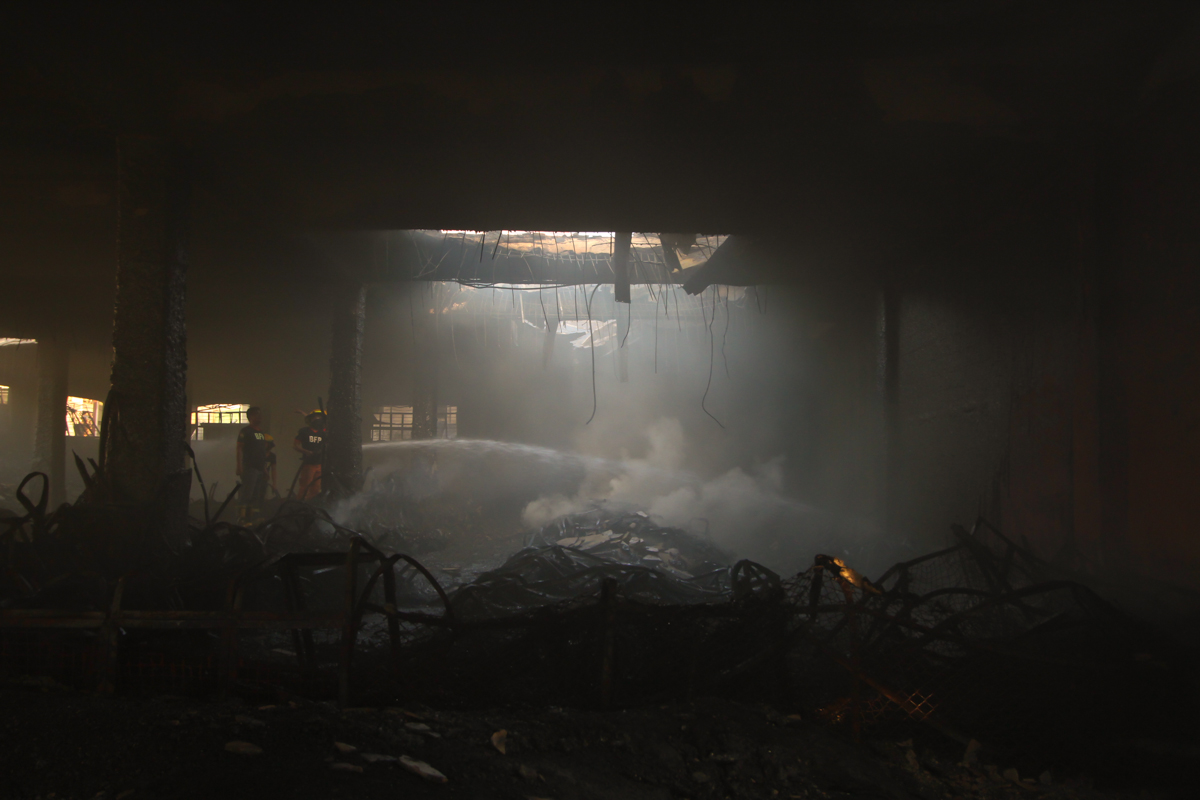 DYING EMBERS. Firefighters douse the interior of the gutted factory of Kentex Manufacturing Corporation a day after fire broke, May 14, 2015. Sparks from a welding done on a metal roll-up gate of the footwear factory set on fire containers of chemicals stored nearby, fueling what would later be deemed as the worst industrial fire in Philippine history. More than 70 people were killed, most of them low-wage workers. PHOTO BY RODRIGO DE GUZMAN
ATTENTION-GRABBER. A taxi cuts a curious figure with its pink body and the ears on its roof, at a gasoline station in Barangay Gen. T. de Leon, Valenzuela City, May 27, 2015. PHOTO BY RODRIGO DE GUZMAN.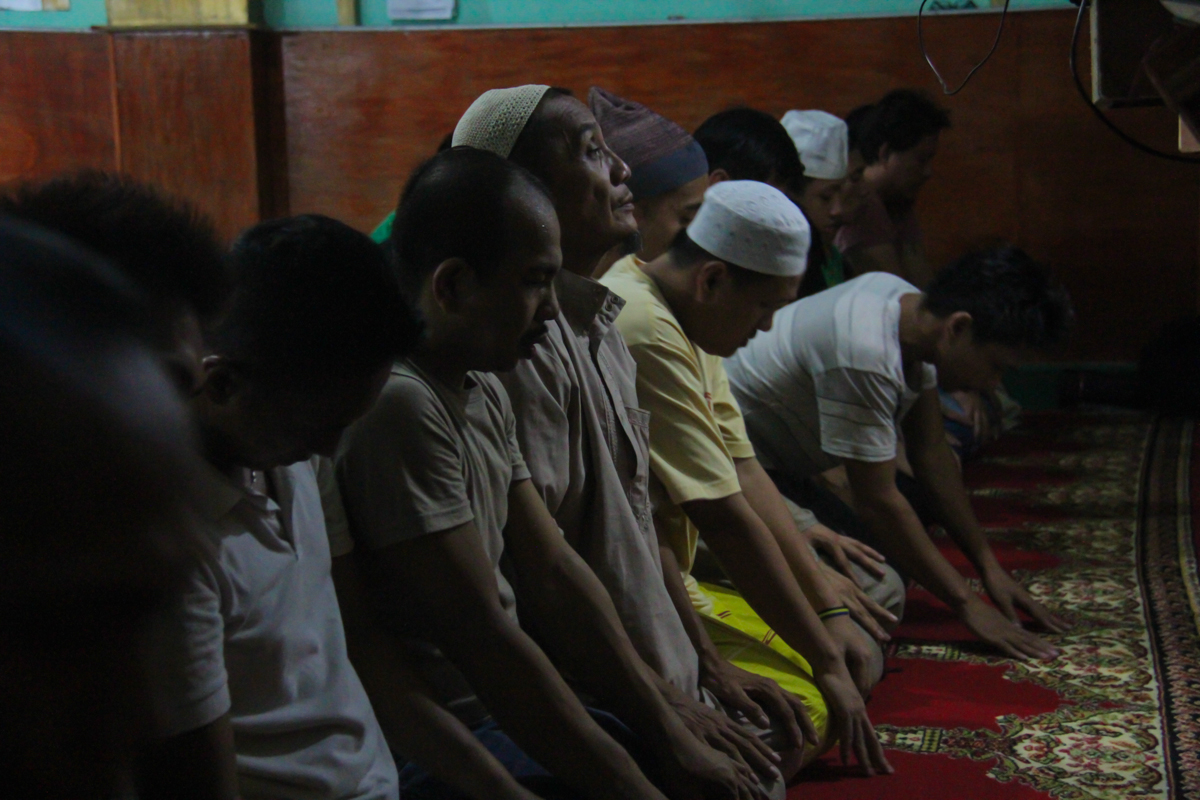 AFTER YOU. Muslim residents pray at the Masjid Norolal Al Hidaya Jammah in Barangay Karuhatan on the first day of Ramadhan, a month-long fasting, June 18, 2015. The Valenzuela City Muslim Consultative Council estimates around 2,000 Muslims live in Valenzuela. PHOTO BY MARK CAYABYAB
ANOTHER ONE DOWN. Mayor REX Gatchalian puts an X over the picture of the Top Two in the list of Most Wanted Persons, during the press conference where the suspect is presented to the media, July 20, 2015. Suspect Daniel Aga Lusong was facing charges for attempted murder, frustrated murder,and murder. PHOTO BY RODRIGO DE GUZMAN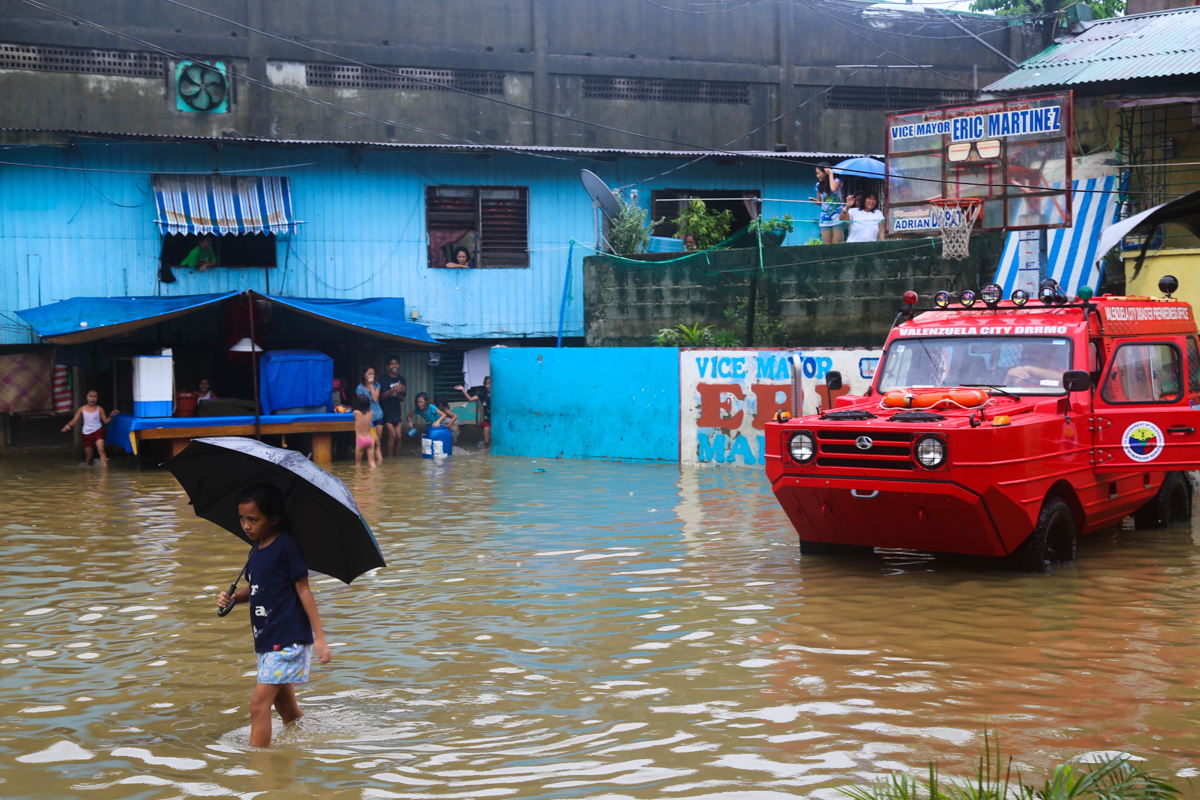 LEAVE BEFORE IT'S LATE. An amphibious rescue vehicle stands by a community basketball court, ready to transport residents of A. Fernando Street in Marulas should the flood rise higher, July 7, 2015. Continuous rains brought by Typhoon Falcon had caused it to flood in the area, which is among the most flood-prone in the city. The city government encouraged the residents to flee to evacuation areas before the flood reaches an untenable level. PHOTO BY RAFAEL CARPIO CAÑETE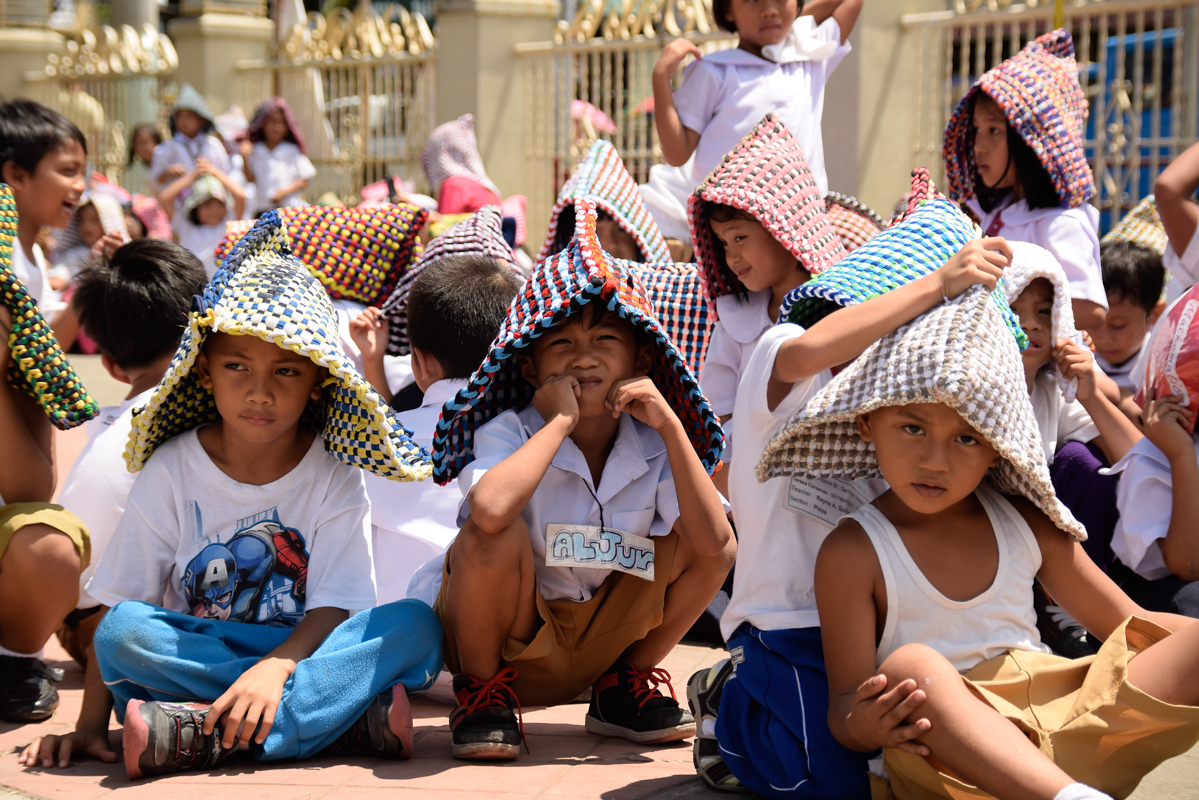 IMPROVISED. The lowly door rug could become a protective gear during an earthquake, as shown by these schoolchildren at the Polo Elementary School, during the Metrowide Shake Drill, July 30, 2015. The drill, led by the Metro Manila Development Authority, was simultaneously held in the different cities in the metro, in preparation for the so called "Big One", a 7.2 magnitude earthquake brought about by the movement of the West Valley Fault and predicted to affect more than 34,000 people. PHOTO BY ALBERT SAN DIEGO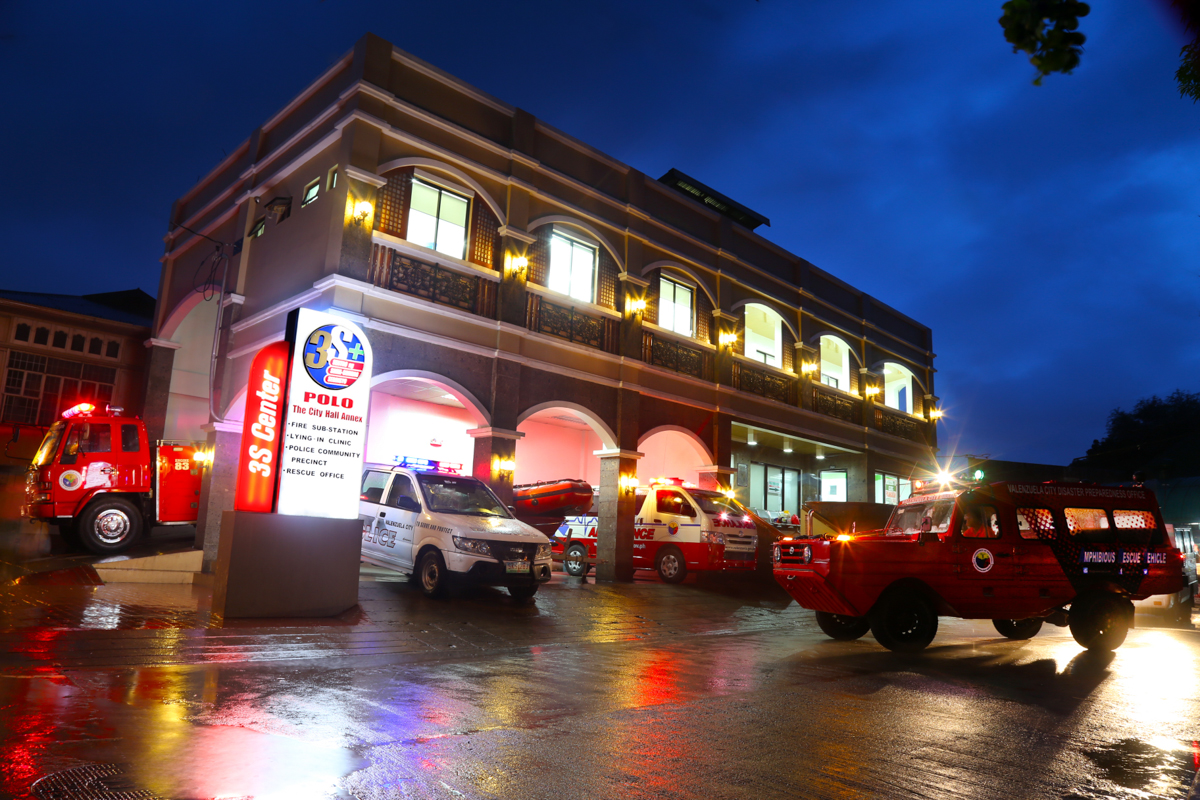 BEAUTY AND BRAWN. The 3S Center in Barangay Polo, one of the 13 buildings of its kind built by the city government across the city, July 7, 2015. A 3S Center is designed to be a "little city hall" with satellites of local government offices making available vital government services to the community. It has a health center, a fire station, and a police community precinct; and is equipped with a fire truck, ambulance, and an amphibious rescue vehicle. This one in Polo is notable for being the only 3S Center with a colonial style exterior, in keeping with the barangay's landscape. PHOTO BY RODRIGO DE GUZMAN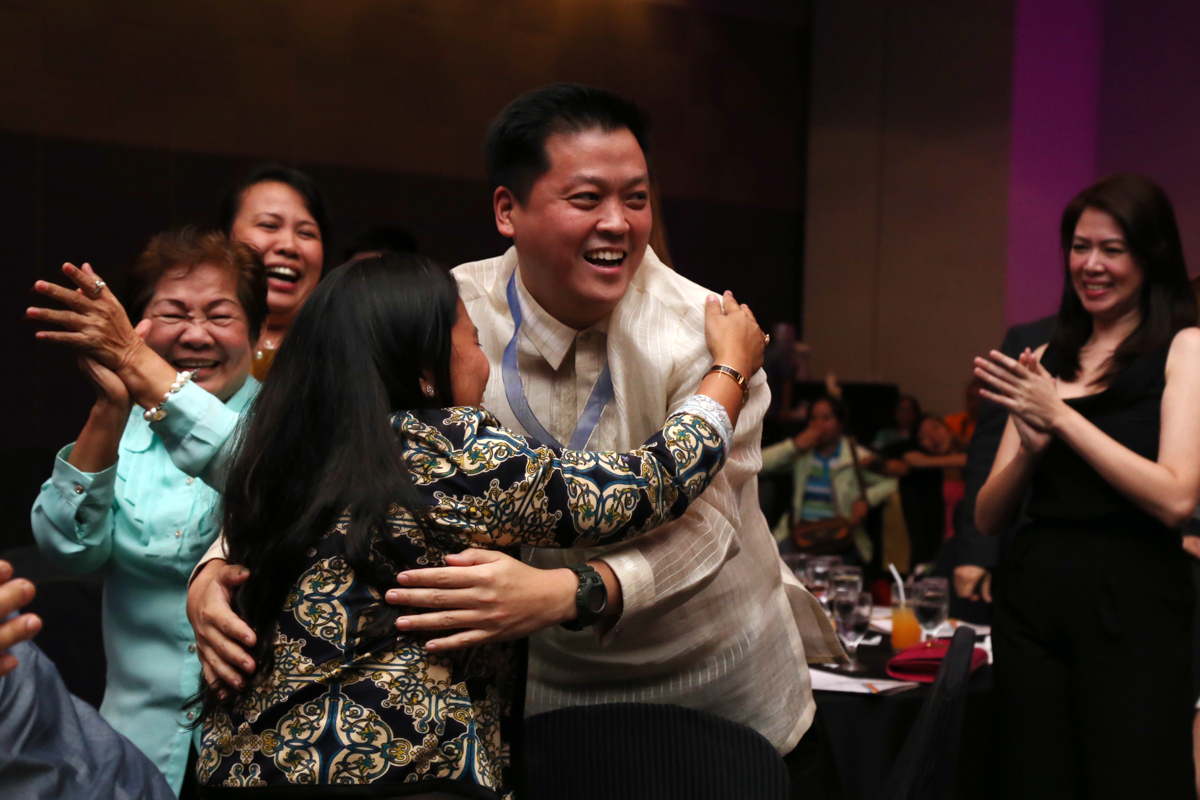 JUBILANT. Mayor REX Gatchalian and Councilor Lorie Natividad-Borja hug in excitement as Valenzuela City is announced to be one of the winners of Galing Pook for 2015, at the awarding ceremonies at the SMX Convention Center in September 2015. Valenzuela was cited for its Education 360 Investment Program, a holistic approach to uplifting the quality of local education. This was the second time Valenzuela received the prize, the first one being in 2012 for the 3S in Public Service Program. PHOTO BY RODRIGO DE GUZMAN.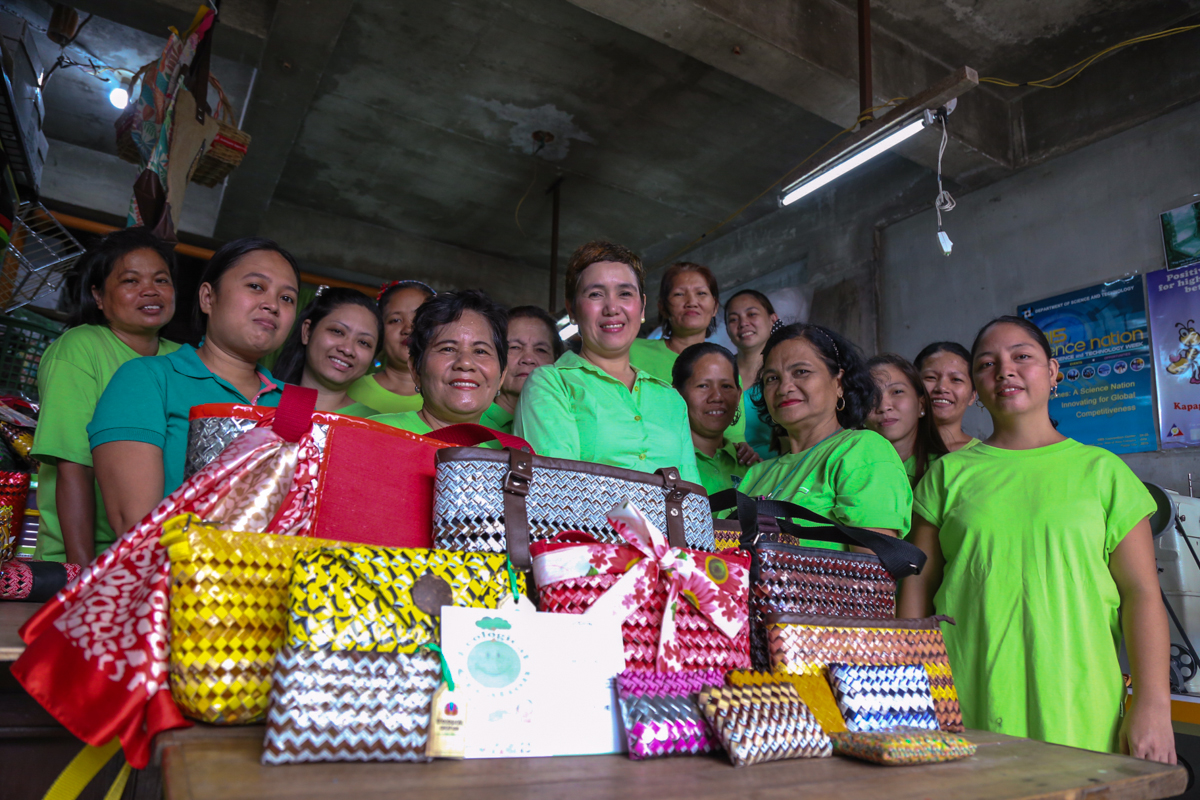 VOGUE BAGS FROM TRASH FOIL. Members of socio-civic organization Rex Ladies - Gen. T. de Leon present their "Ecological Creations", bags, wallets and accessories made of trash foil wrappers, September 20, 2015. The group provides livelihood to more than 20 women in the community and sells its products to clients in the country and abroad. PHOTO BY RODRIGO DE GUZMAN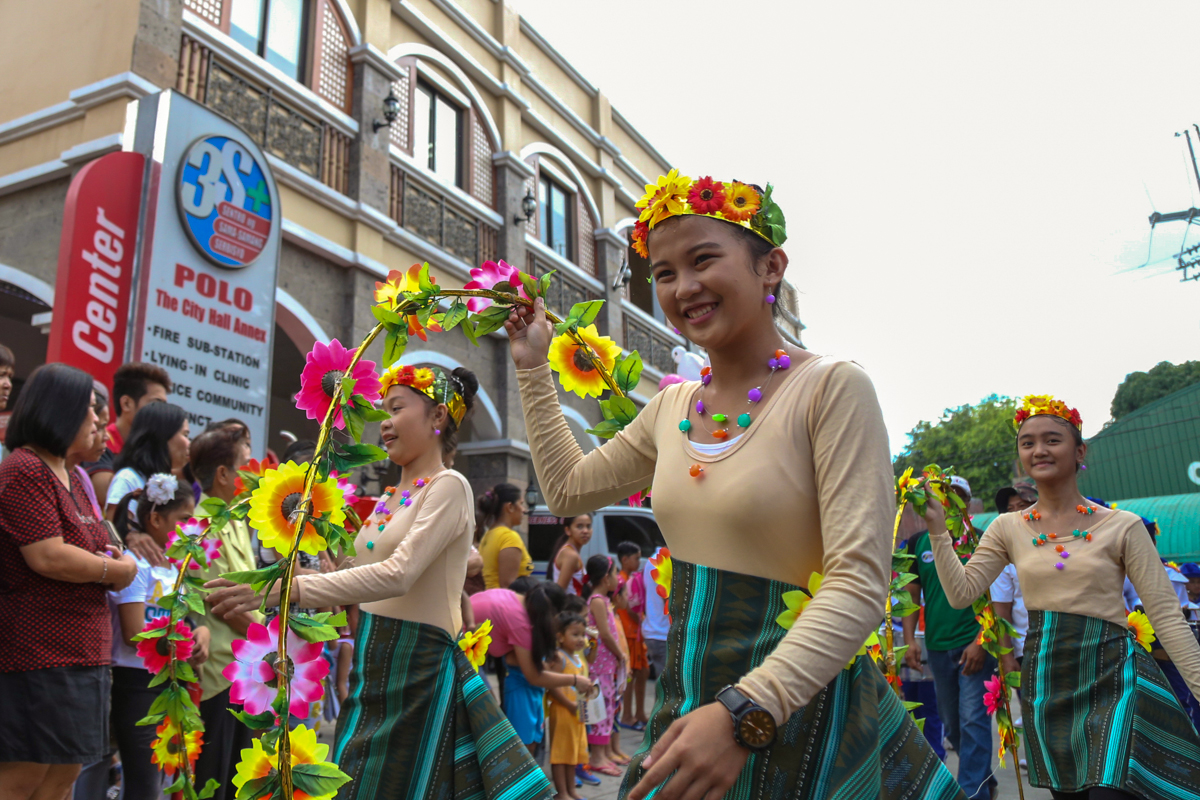 FLOWERS OF YOUTH. Teens dance in the streets of Barangay Polo during the Bread and Flower Festival, a feast honoring San Diego de Alcala, a local patron saint, November 12, 2015. According to legends, San Diego, a 15th Century Spanish Franciscan lay brother, would give away pieces of bread to the poor. The bread, one miraculous day, would turn into flowers. PHOTO BY RODRIGO DE GUZMAN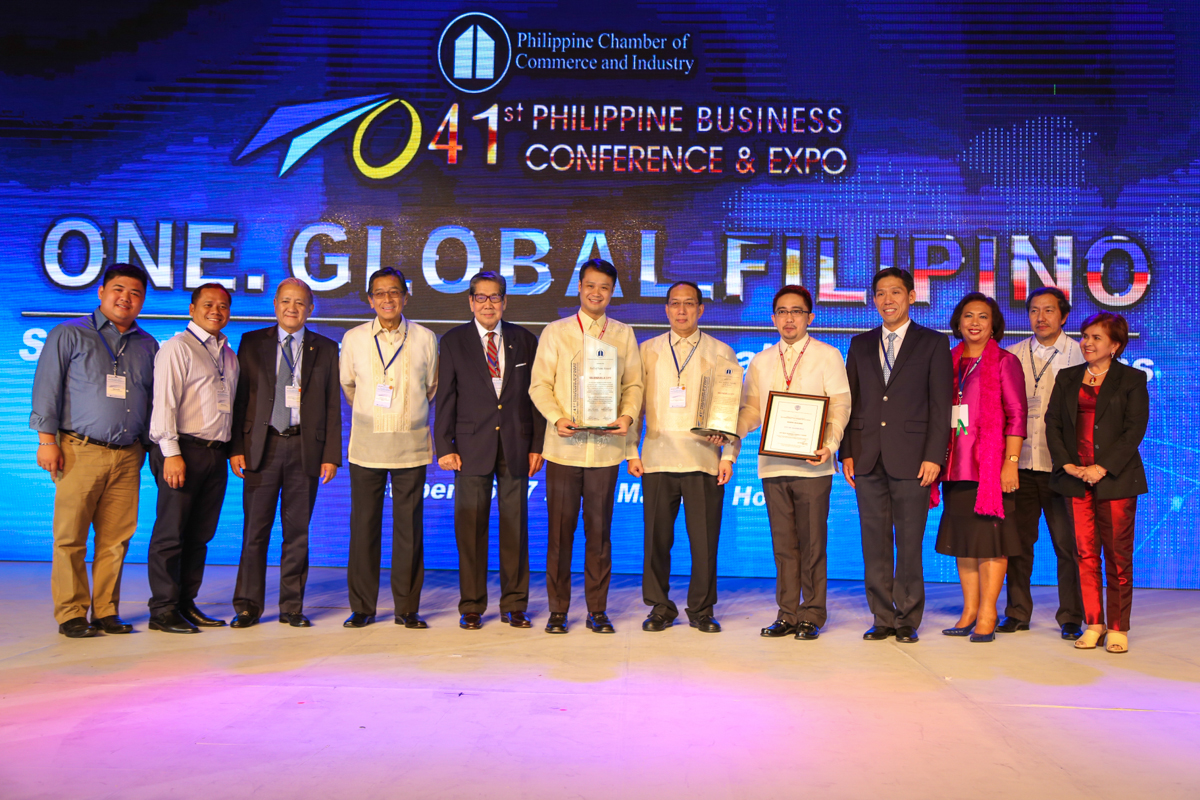 BUSINESS' BEST FRIEND. Representative Win Gatchalian of the First District receives the Most Business-friendly Award in behalf of the Valenzuela City government, during the awarding ceremony at the Marriott Hotel in Makati City, October 27, 2015. This being the third time since 2012 Valenzuela received the prize, the city also entered the Hall of Fame. PHOTO BY RODRIGO DE GUZMAN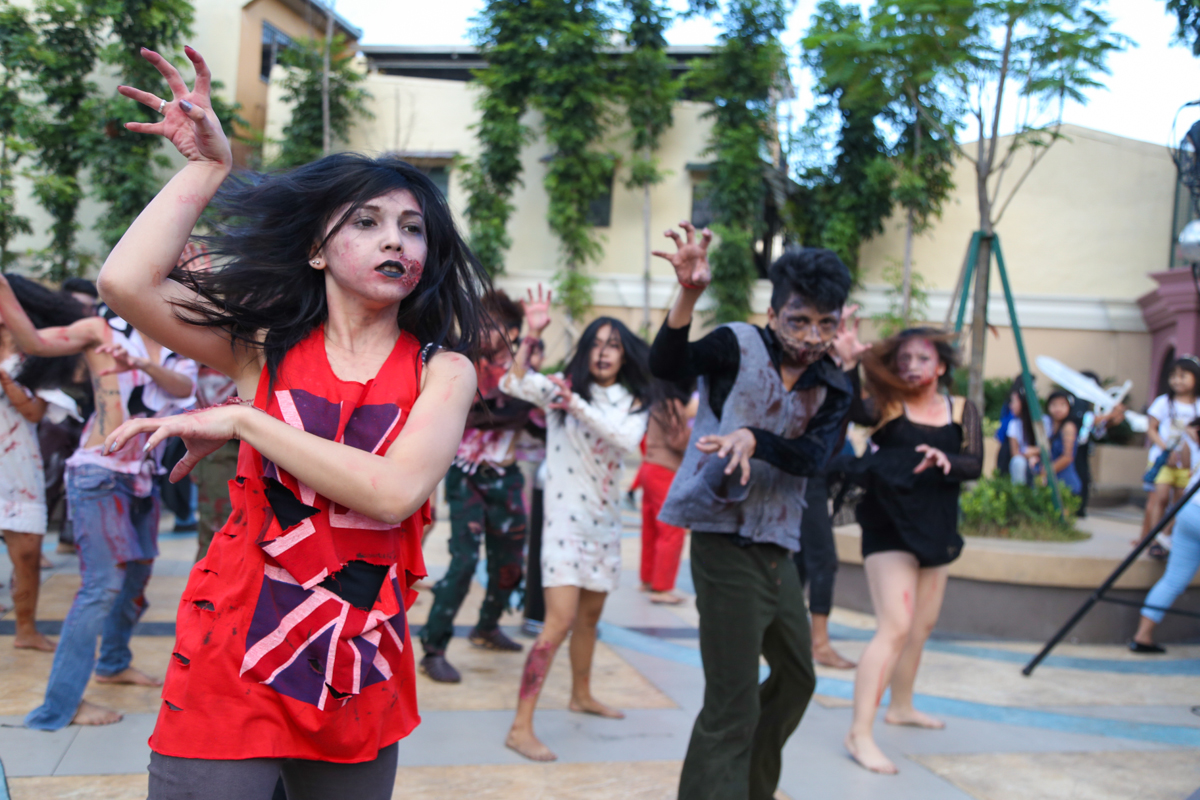 SPOOKS AT THE PARK. Visitors at the Valenzuela City People's Park were scared out of their wits when "zombies" appeared and walked among them, even dancing to Michael Jackson's "Thriller", October 30, 2015. PHOTO BY RODRIGO DE GUZMAN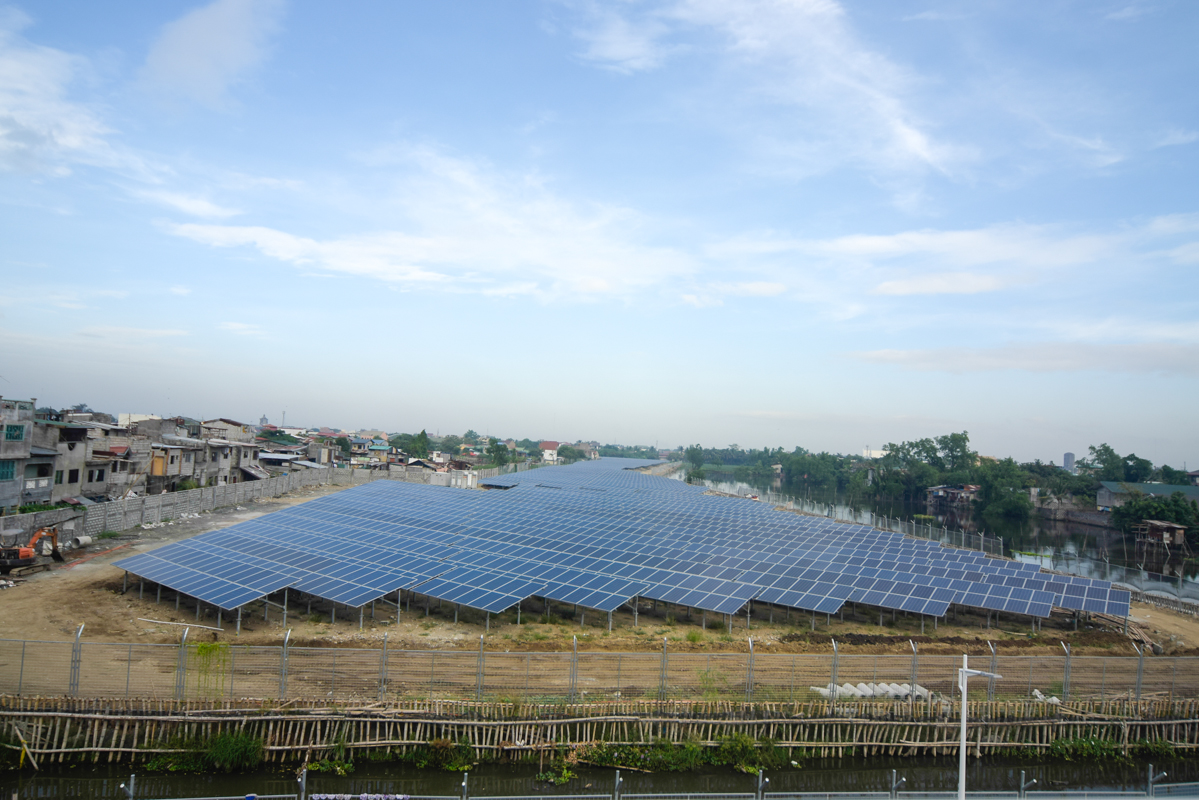 SUN CATCHER. What used to be fishpond in Barangay Isla, Valenzuela City is now a solar power farm, inaugurated on November 27, 2015. The farm, consisting of over 32,000 solar panels, generates 8.6 megawatts of electricity and supplies to a leading energy distribution company. Solar energy is a clean and renewable kind of energy, the process of sunlight conversion being devoid of carbon and the sun being an eternal source. PHOTO BY RODRIGO DE GUZMAN.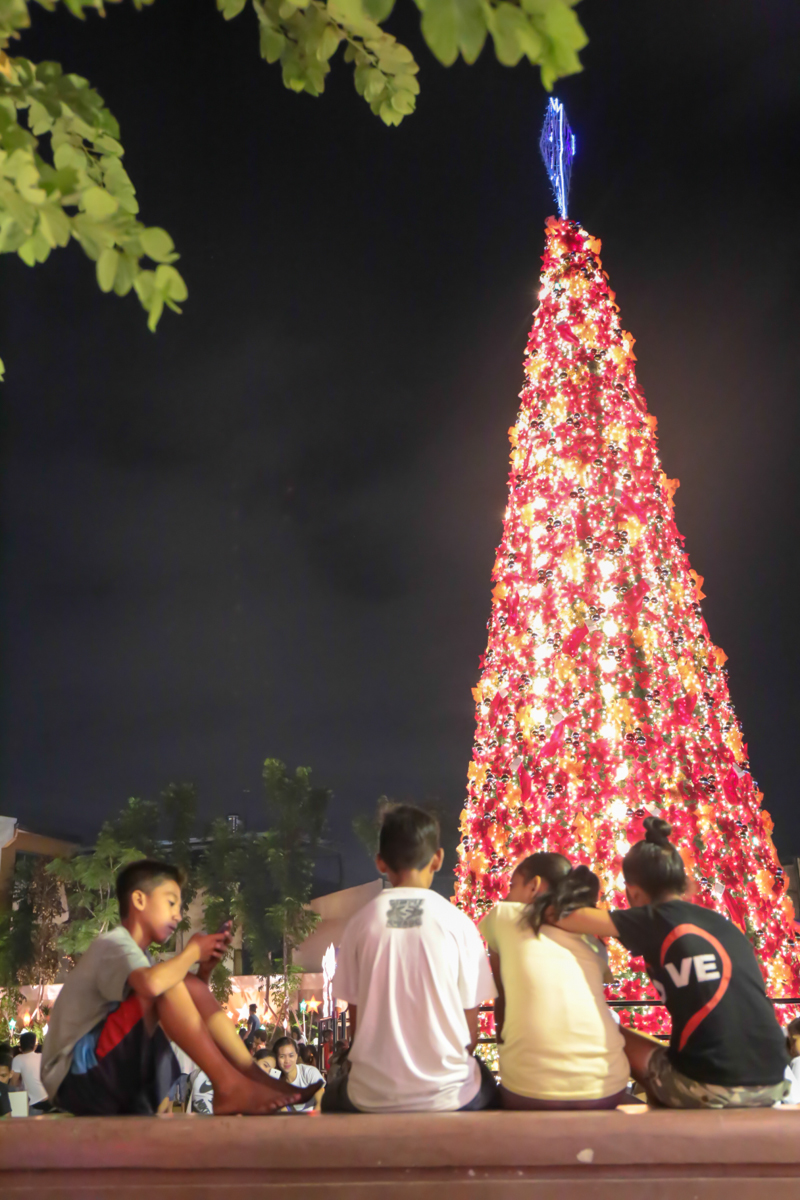 HIGH HOPES. The 50-foot Tree of Hope towers over the Valenzuela City People's Park, December 1, 2015. Every year, the city government lights the tree as a Christmas tradition, dedicating it to a particular sector of society. The dedicatee for 2015 is the Valenzuelano family, the inspiration behind many of the city government's projects for the whole year. PHOTO BY KING AL S. MENDOZA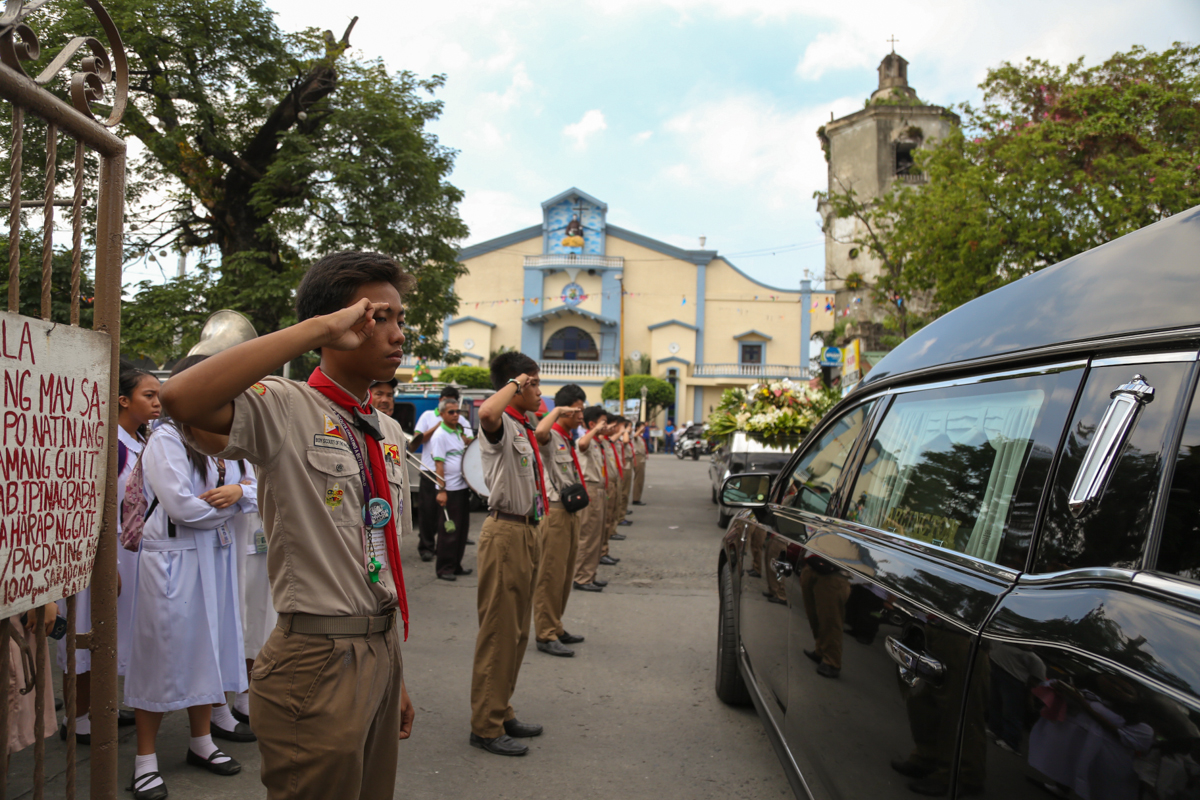 WE OWE IT TO YOU. Boy scouts salute the funeral car bearing the remains of former Valenzuela mayor and Bulacan governor Ignacio Santiago as it enters the ground of San Diego de Alcala Parish Church, December 8, 2015. Historians say it was during his terms as mayor (1956 to 1959; 1964 to 1967) that factories began to proliferate in Valenzuela, transforming the agricultural town into an industrial center. Santiago died in sleep on December 2. He was 86. PHOTO BY RODRIGO DE GUZMAN.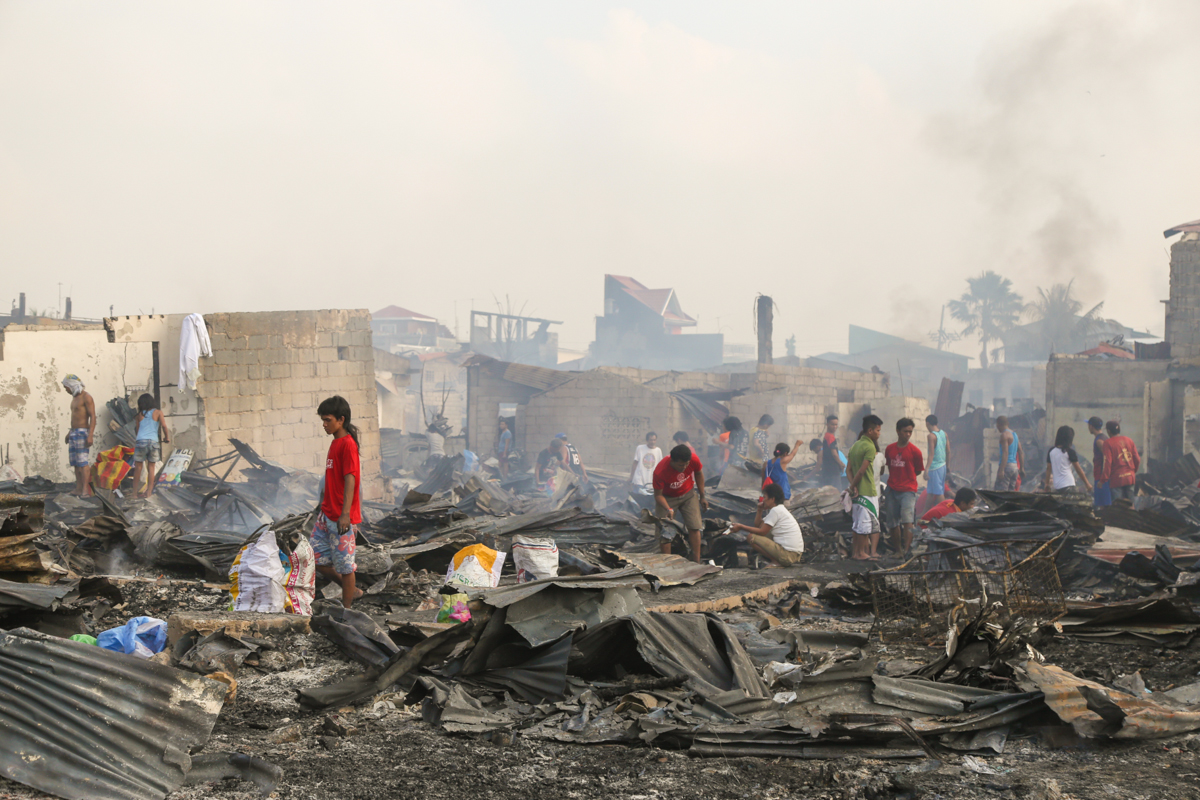 THE MORNING AFTER. Residents pick through the debris of a razed community along Lingahan Street in Barangay Malanday December 11, 2015. The fire that broke the night before affected around 500 families, who fled to the nearby basketball court and 3S Center for shelter. PHOTO BY RODRIGO DE GUZMAN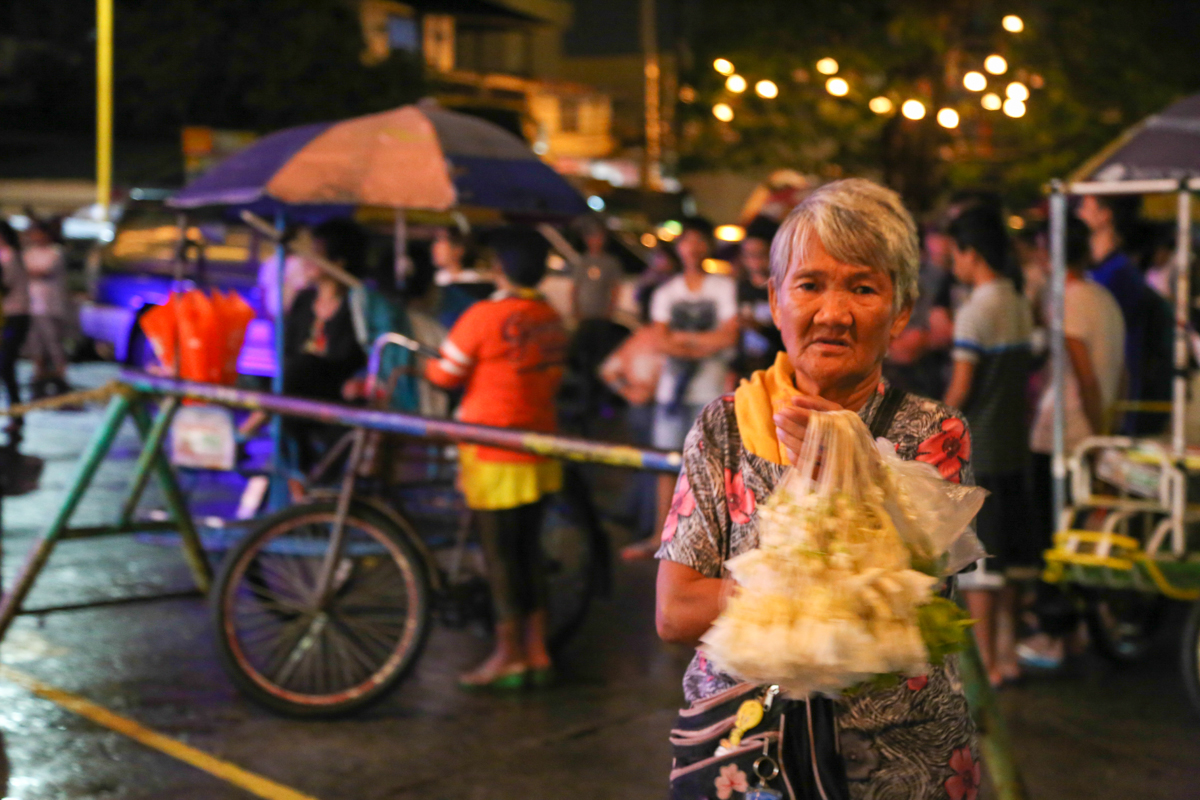 PURITY OF FAITH. An elderly woman sells necklaces of sampaguita on the first night of Simbang Gabi, at the grounds of the San Diego de Alcala Parish Church, in Barangay Polo, December 16, 2015. PHOTO BY RODRIGO DE GUZMAN