The show must go on: The Mano Po, San Roque Festival 2016
2016-05-26

Caption

For this year's Mano Po San Roque festival, the grounds of the San Roque Chapel in Barangay Mabolo in Valenzuela City were decorated with a canopy of multicoloured umbrellas.
The umbrellas would later prove prescient and practical. On the morning of May 12, the last day of the week-long celebrations, it rained. But this failed to dampen the spirit of the occasion and the merrymakers, among them fire breathers, would continue dancing through the downpour. Organizers say this was the first time in recent years that it rained during the festival held in May, when summer is usually is in its height.
The festival draws its origins from an incident in 1763 where fearful residents of Polo – the town that would later become Valenzuela – fled the invasion of British forces and sought refuge in the surrounding forests. The British had been pursuing the Spanish governor-general Simon de Anda. A month later, on May 12, 1763, the people would return to the town, the British invaders gone. Believing it was the local patron San Roque who drove the invaders away and healed those who had fallen ill in hiding, the residents honored the saint with festivities.
The real-life St. Roch, as he is commonly known in most English-speaking nations, hailed from Montpellier, France, born to a rich family. He would give away his wealth to the poor and care for impoverished sick people. Some accounts say he lived through the Black Death and become afflicted with the plague himself. He would take cover in a forest where a dog would bring him food and lick his wounds until he recovered. To this day, St. Roch has been recognized as the patron saint of the sick and dogs.
Devotion to St. Roch was brought by the Spanish colonizers to the Philippines, where numerous churches and festivals would be dedicated in his honor. In Valenzuela City, the festival typically covers the first two weeks of May. This year, events held across May 3 through May 11 included talent searches, a dog pageant, a bike cavalcade, and a sagala, pageant of richly attired young women. On May 12, a street dance competition was held on the streets of Barangay Mabolo. Other devotees, especially the single, would also do their share of dancing not so much as to compete as doing so during the festival is believed to bring lovers to the unmarried.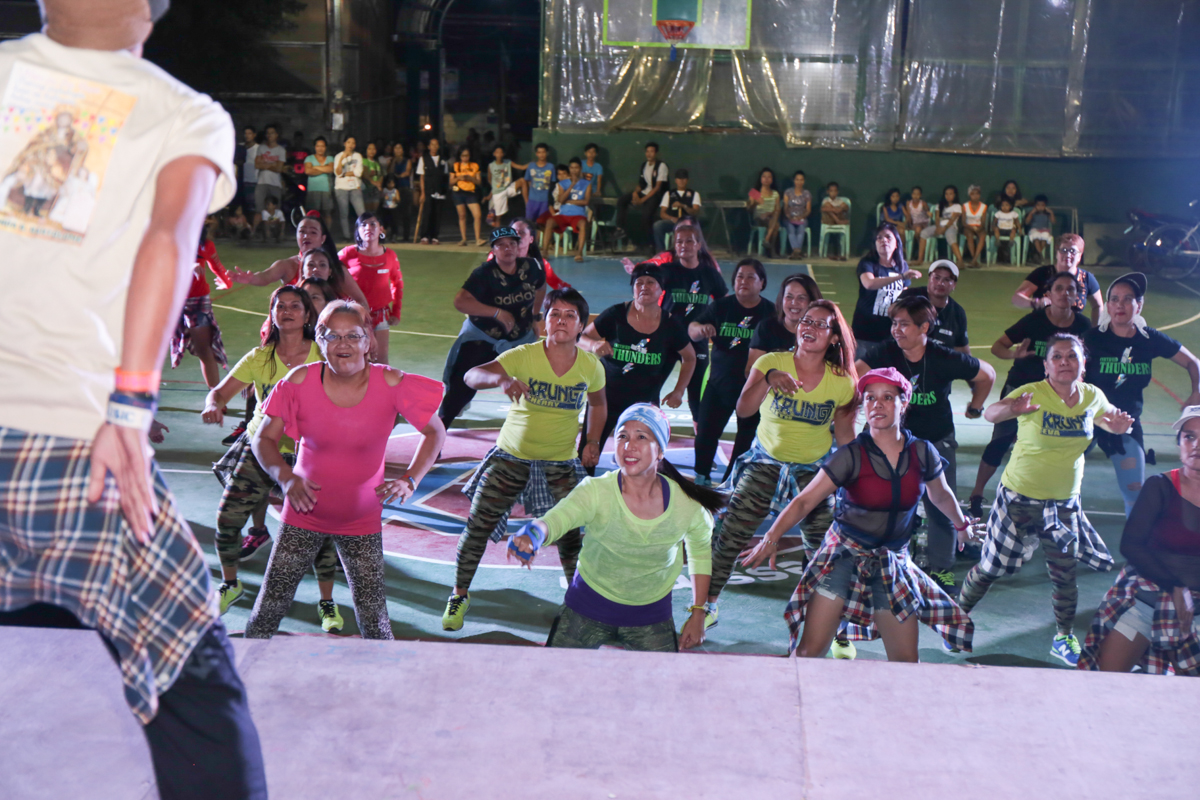 LADIES WHO ZUMBA A zumba competition at the Mabolo Covered Court was the highlight of the festival's second night, May 4, 2016. Zumba, a routine that combines aerobics with dance that originated in Brazil, is a popular activity among women in Valenzuela City. PHOTO BY JEREMIAH RUBIANO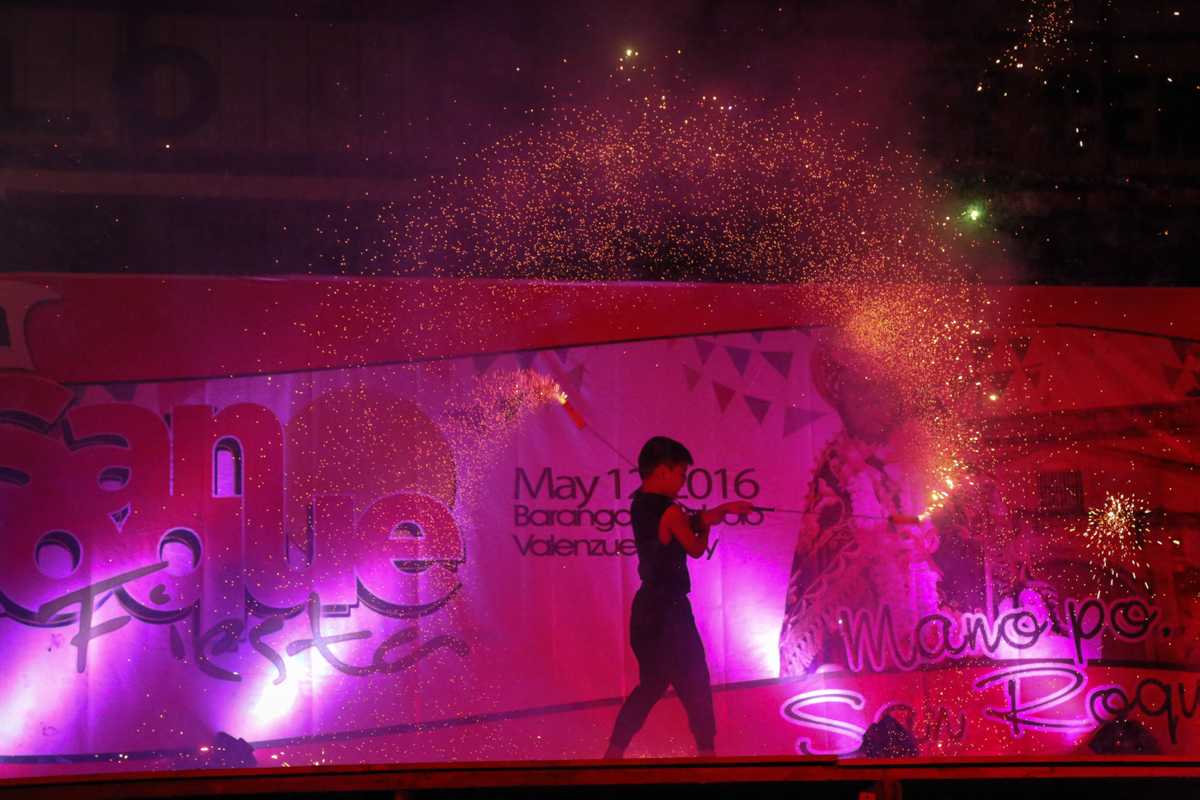 FIREBENDER Sparks fly in the air as a boy contestant spins a pair of firecrackers suspended on strings, wowing the audience at Talentadong Kids, a talent competition among children, at the Mabolo Covered Court, May 5, 2016. PHOTO BY KING AL MENDOZA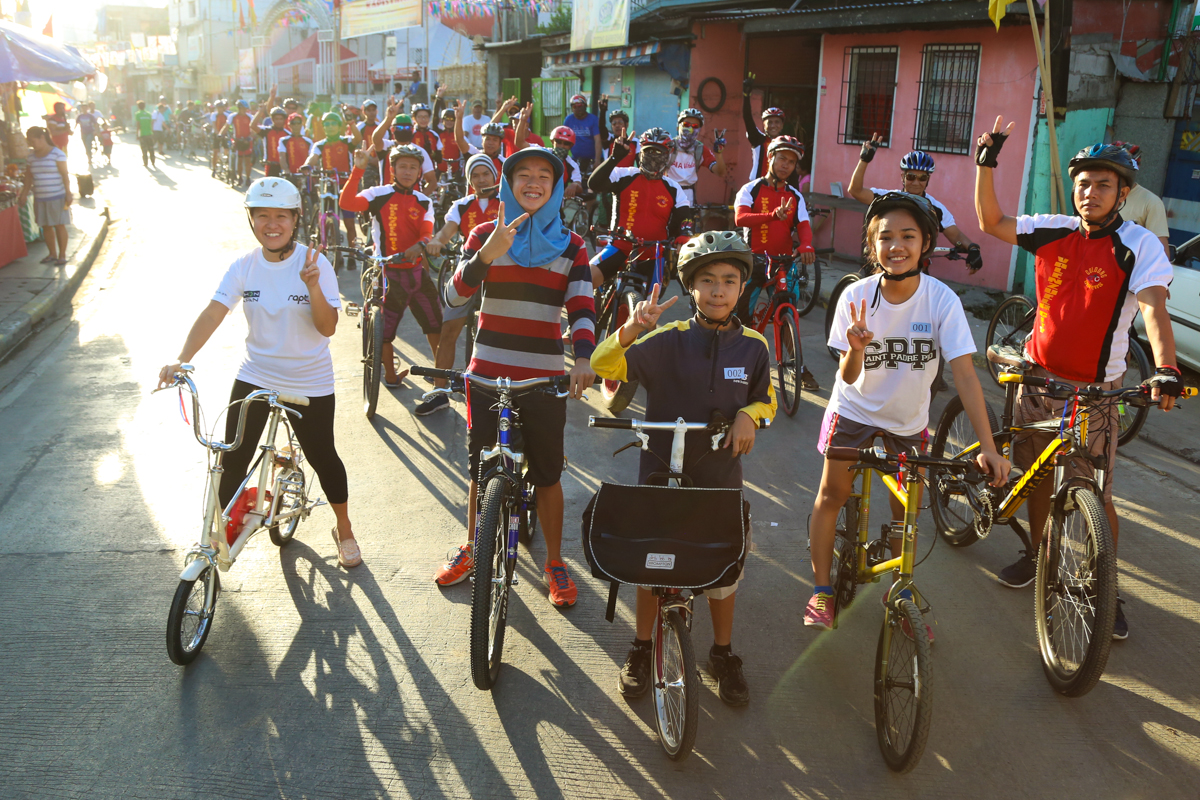 DEVOTEES ON WHEELS Bicyclists participate in the 4th Padyak Alay Kay San Roque, a bicycle cavalcade, morning of May 7, 2016. The route starts at the San Roque Chapel and ends at the Mabolo Activity Center. PHOTO BY RODRIGO DE GUZMAN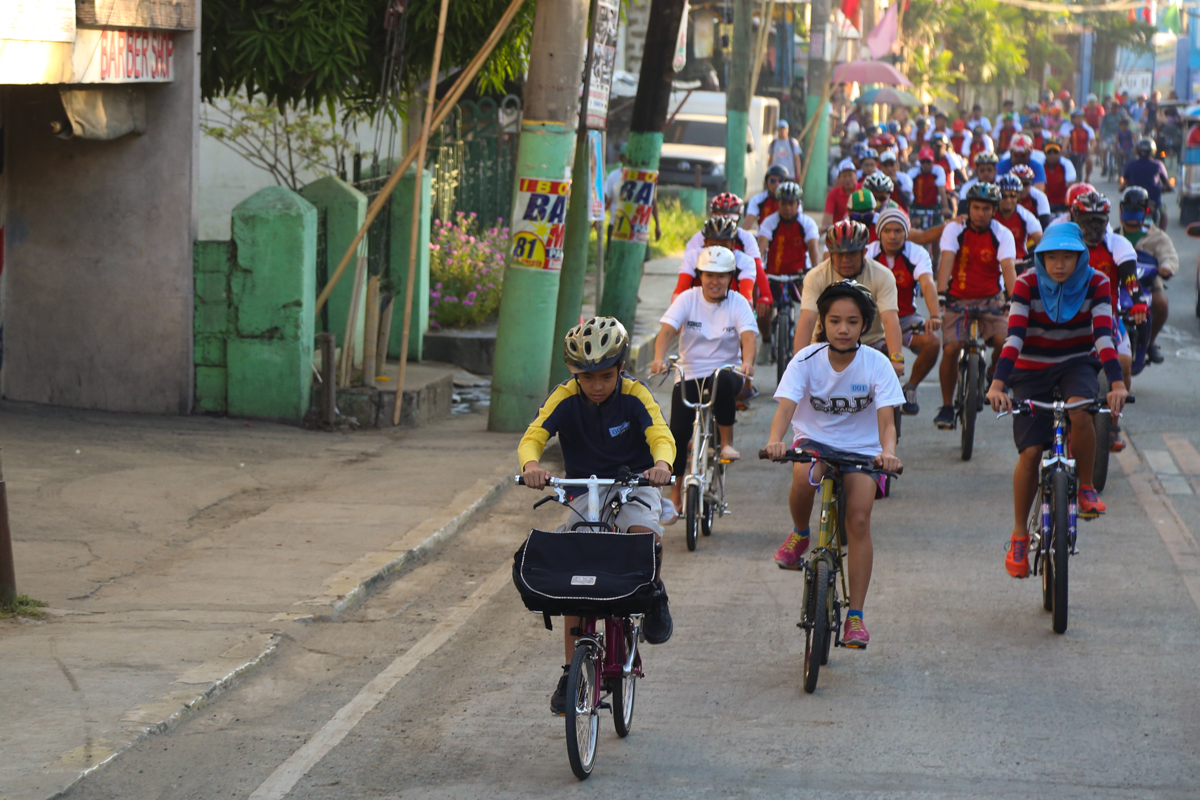 A CHILD TO LEAD THEM A young bicyclist leads the cavalcade. PHOTO BY RODRIGO DE GUZMAN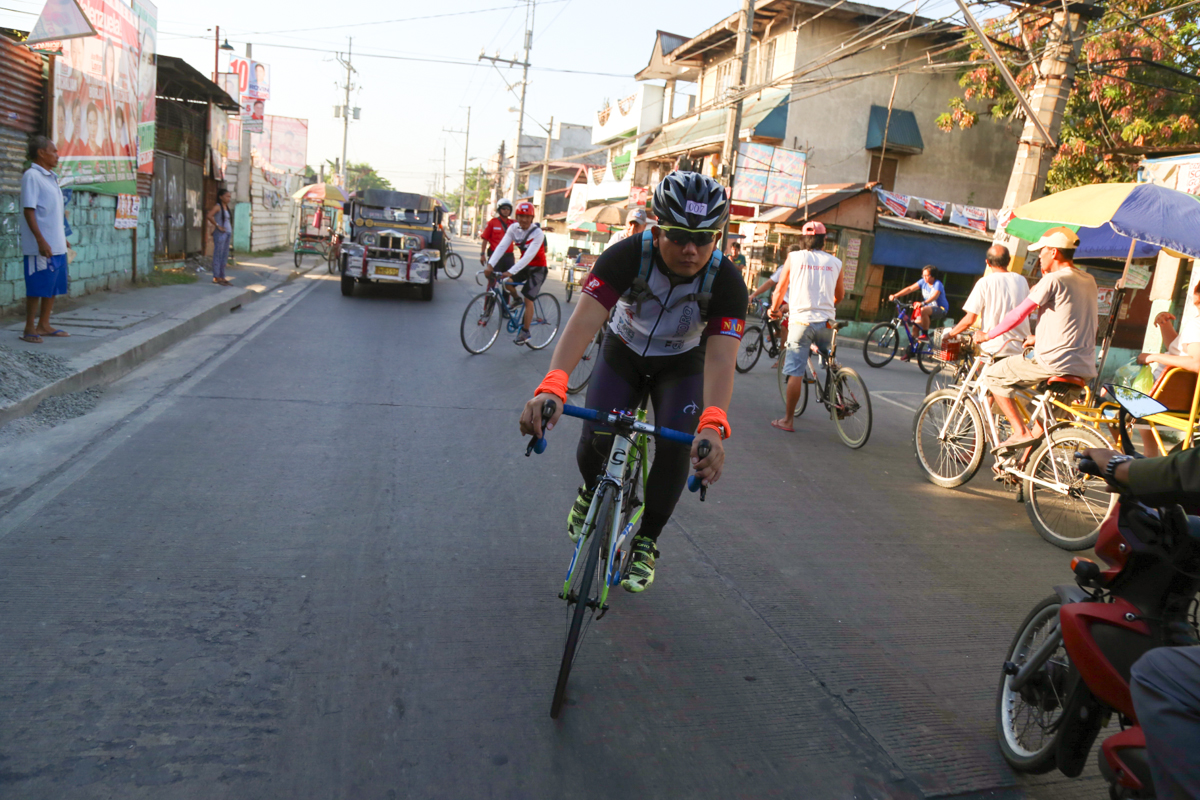 THE ROAD NOT TAKEN Activities such as the Padyak promotes bicycling as an environment-friendly means of transportation, an alternative to the more common tricycles and jeepneys. PHOTO BY RODRIGO DE GUZMAN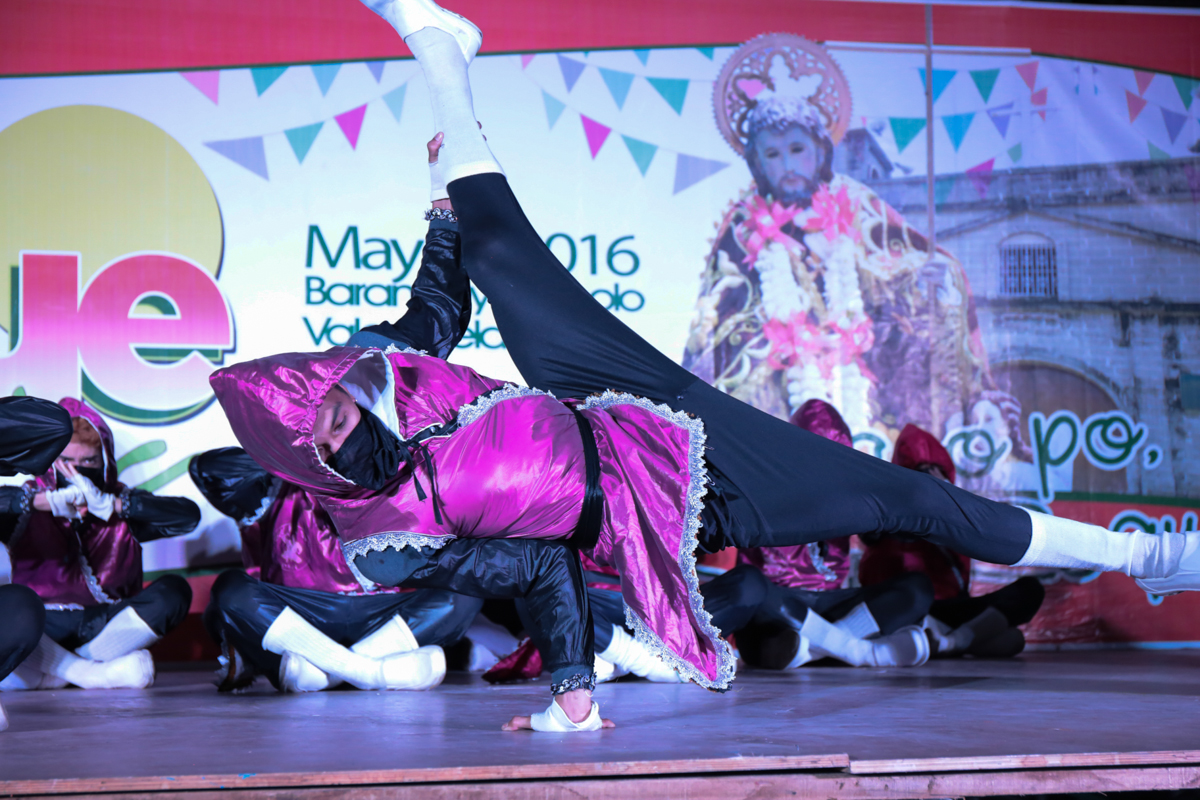 NINJA MOVES Acrobatic moves such as this are a staple at a group dance contest at the Mabolo Activity Center, May 7, 2016. PHOTO BY RAFAEL DELFINO
'BUWIS-BUHAY' A dancer attempts to defy gravity in this number during a dance contest, at the Mabolo Activity Center, May 7, 2016. PHOTO BY RAFAEL DELFINO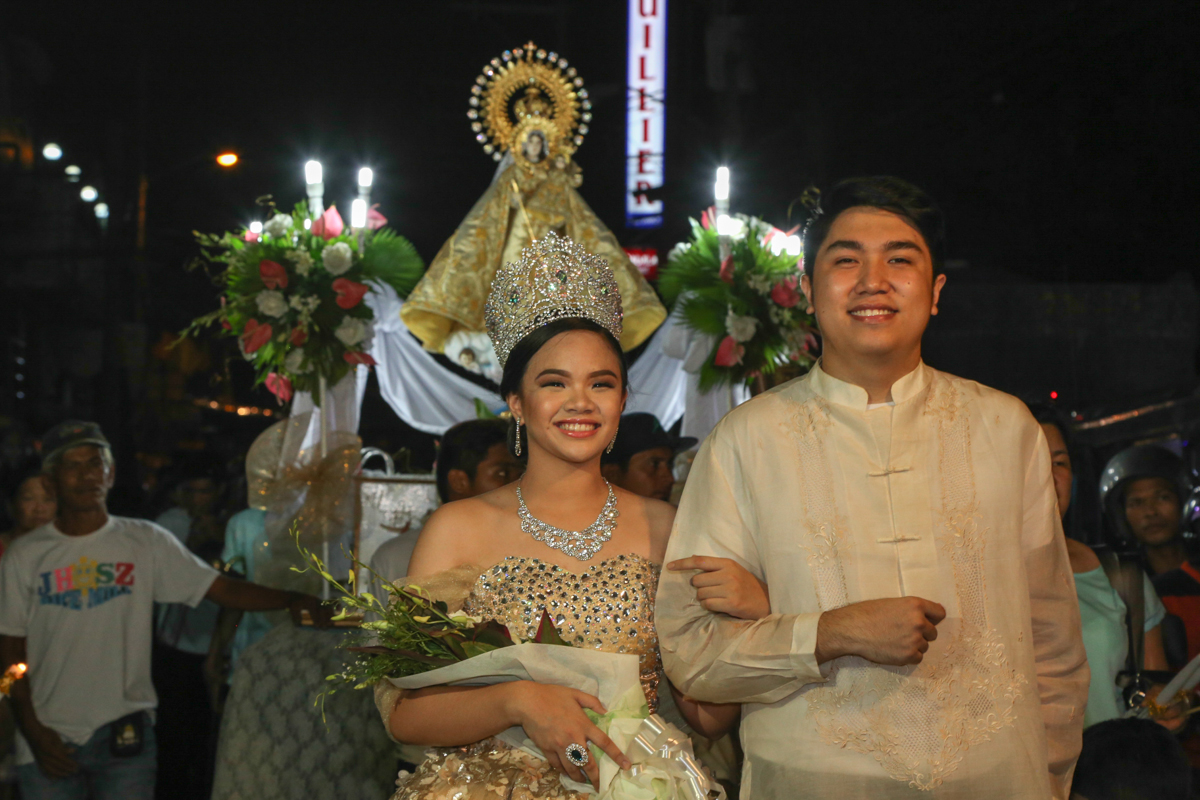 GUARDIAS DE HONOR Elegantly dressed young men and women parade down the streets of Mabolo during the sagala night of May 11, 2016. PHOTO BY RODRIGO DE GUZMAN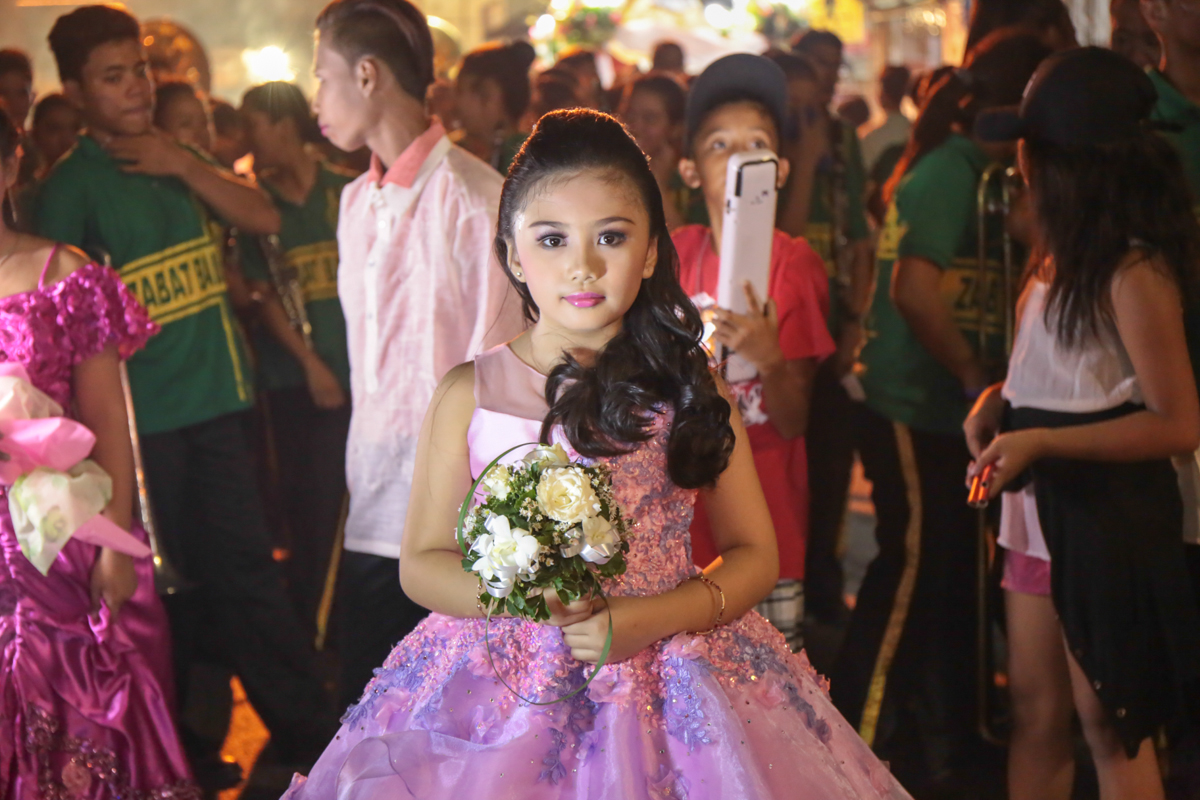 PRETTY IN PINK A participant in the sagala waits for the parade to start. PHOTO BY RODRIGO DE GUZMAN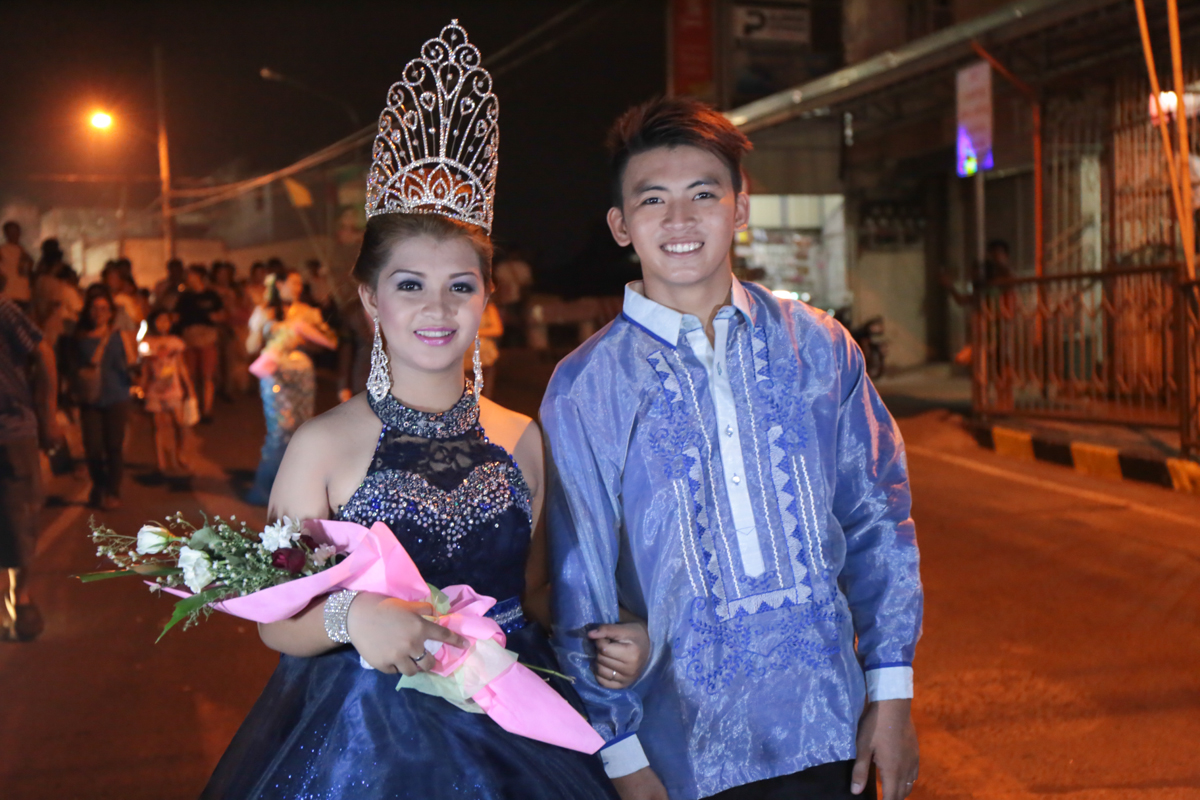 FASHION FORWARD The sagala has become an avenue for local dressmakers to showcase their creations. PHOTO BY RODRIGO DE GUZMAN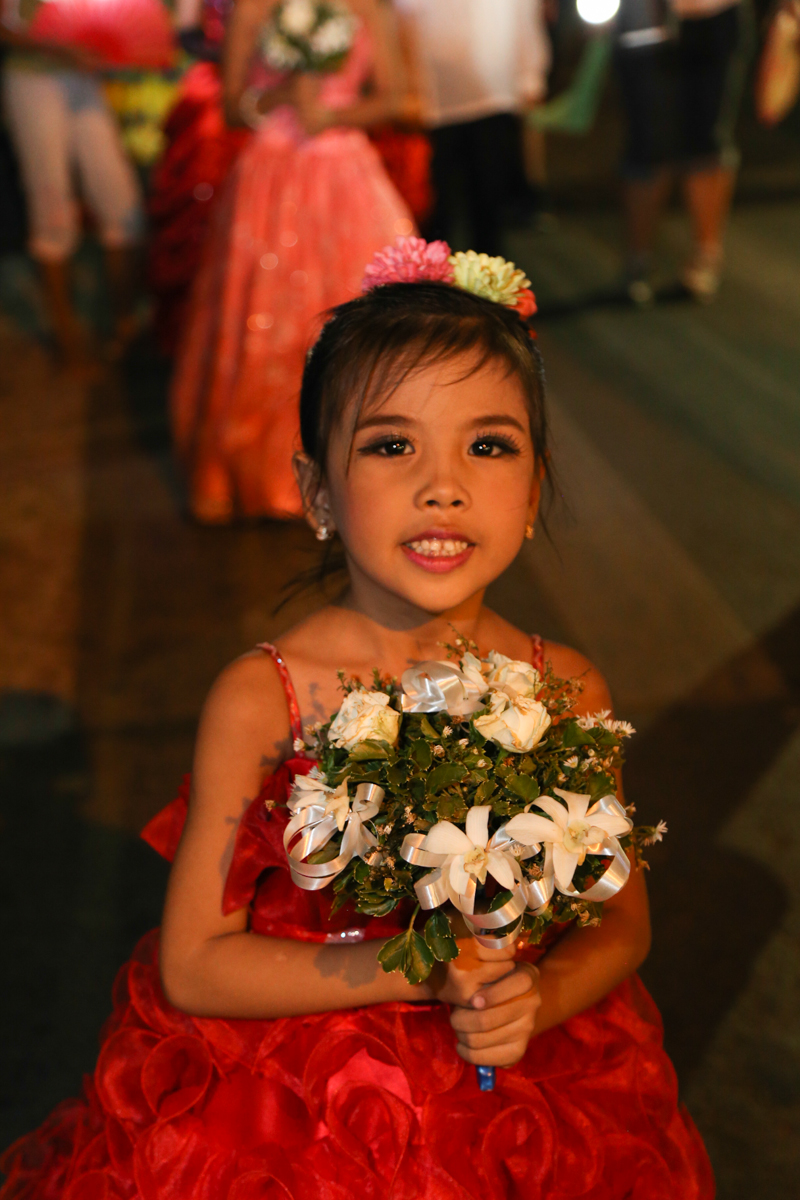 BUDDING BEAUTY While tradition requires participants to the sagala to be young women -- who each represents a female character from Catholic mythology -- toddler girls have also recently joined the promenade. PHOTO BY RODRIGO DE GUZMAN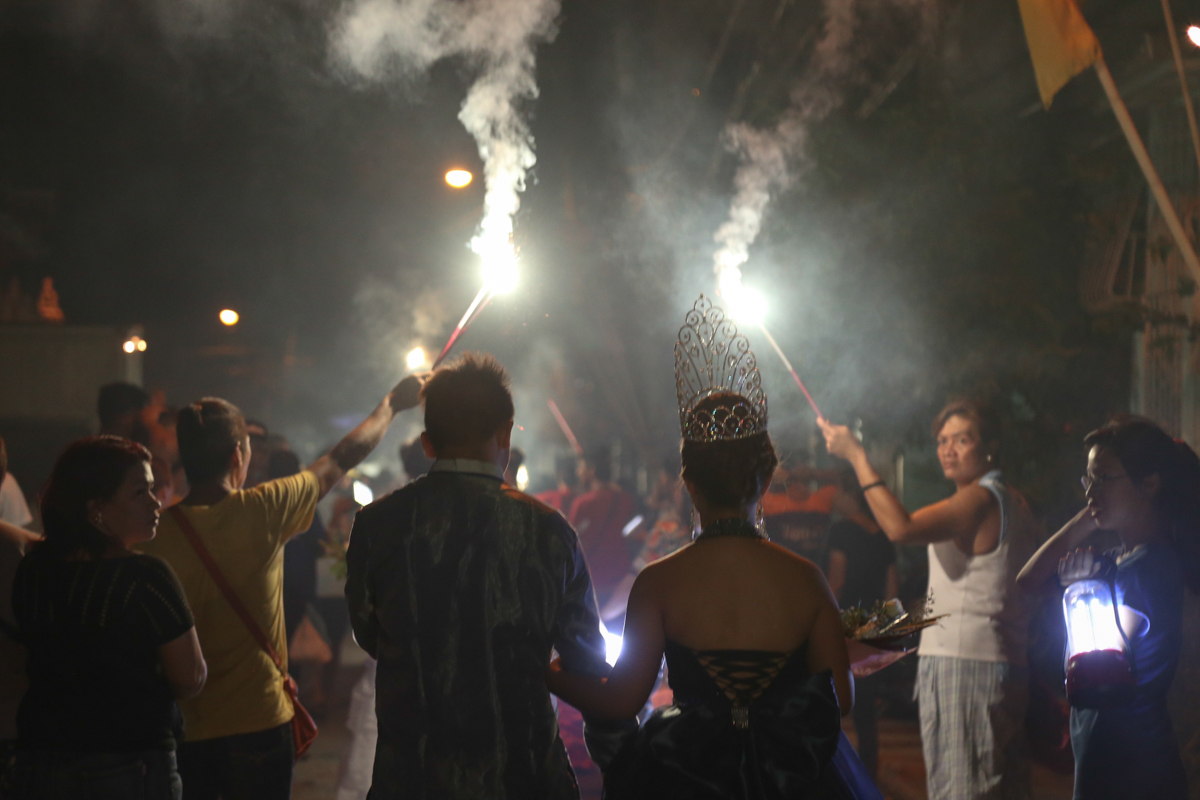 SHINING MOMENT Sparklers and electric lamps light the sagala participants' way. PHOTO BY RODRIGO DE GUZMAN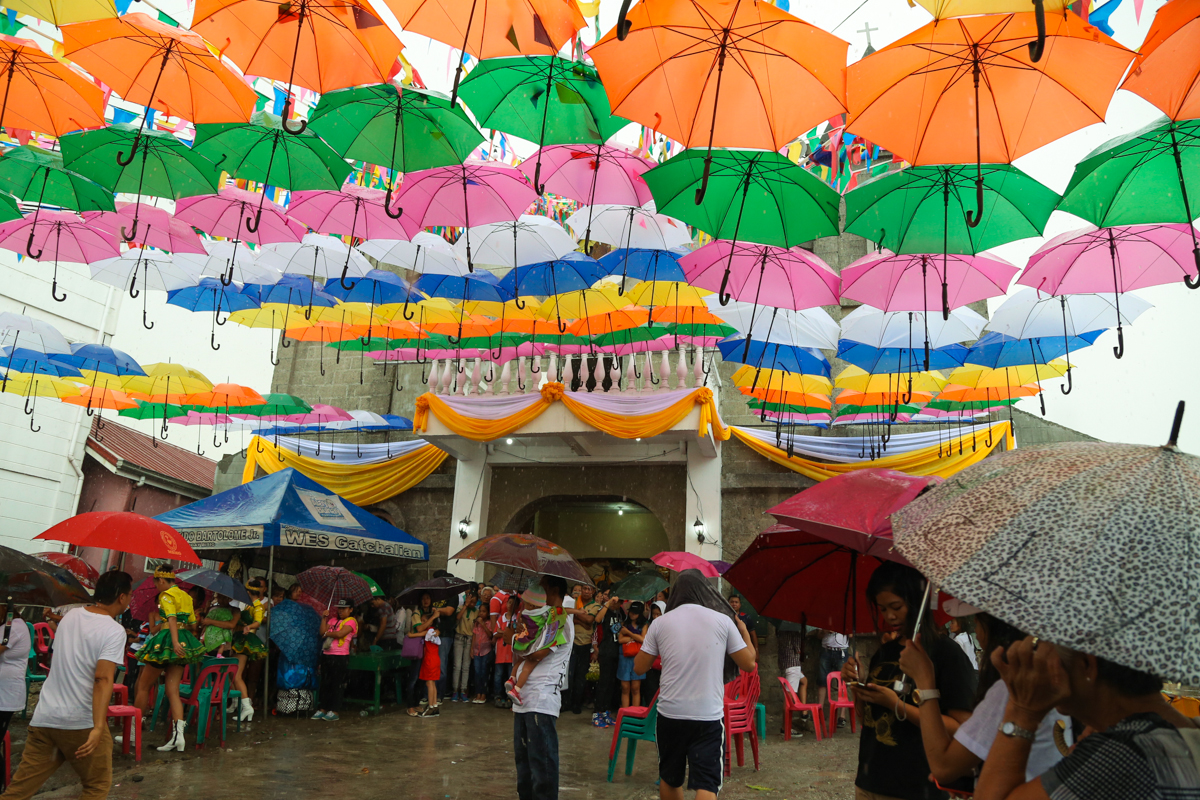 READY FOR THE RAIN The canopy of umbrellas proves suitable when the rain comes pouring down on the morning of the last day of festival, May 12, 2016. PHOTO BY RODRIGO DE GUZMAN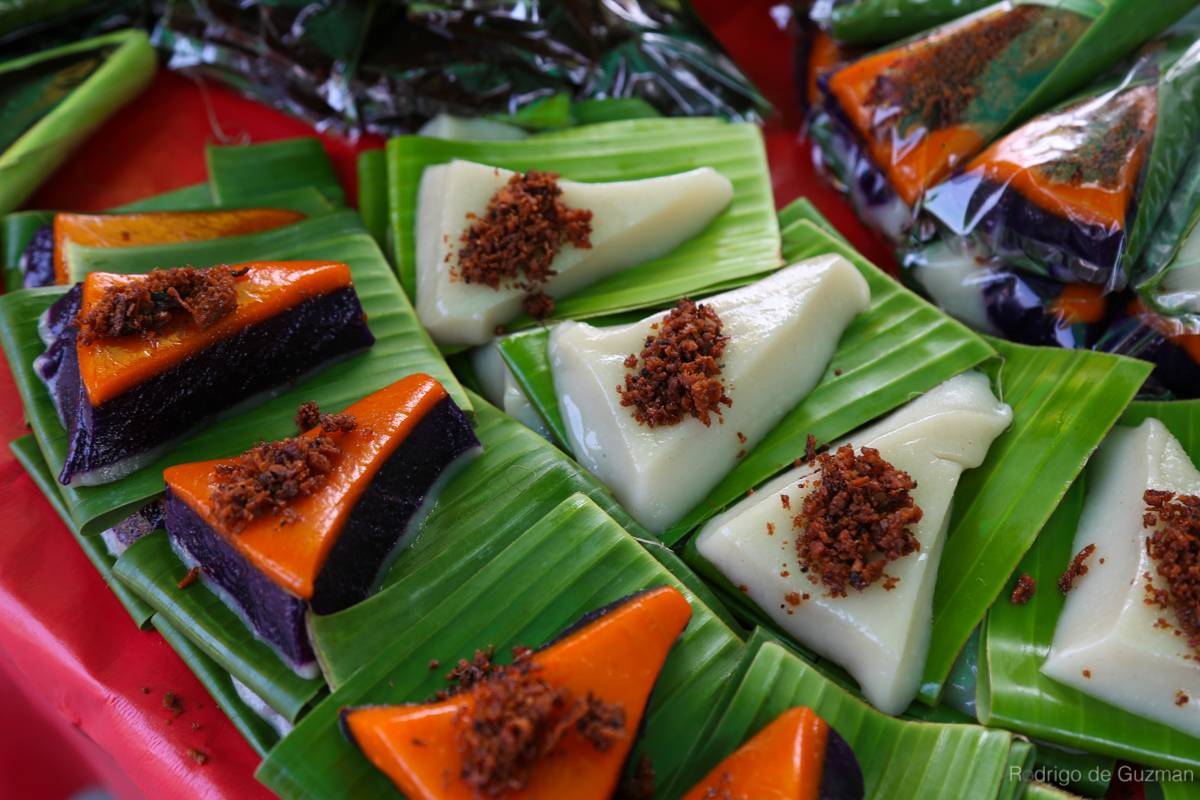 LET THEM EAT CAKE Filipino delicacies, such as these rice cakes sapin-sapin and tamales, were sold just outside the grounds of San Roque Chapel, May 12, 2016. PHOTO BY RODRIGO DE GUZMAN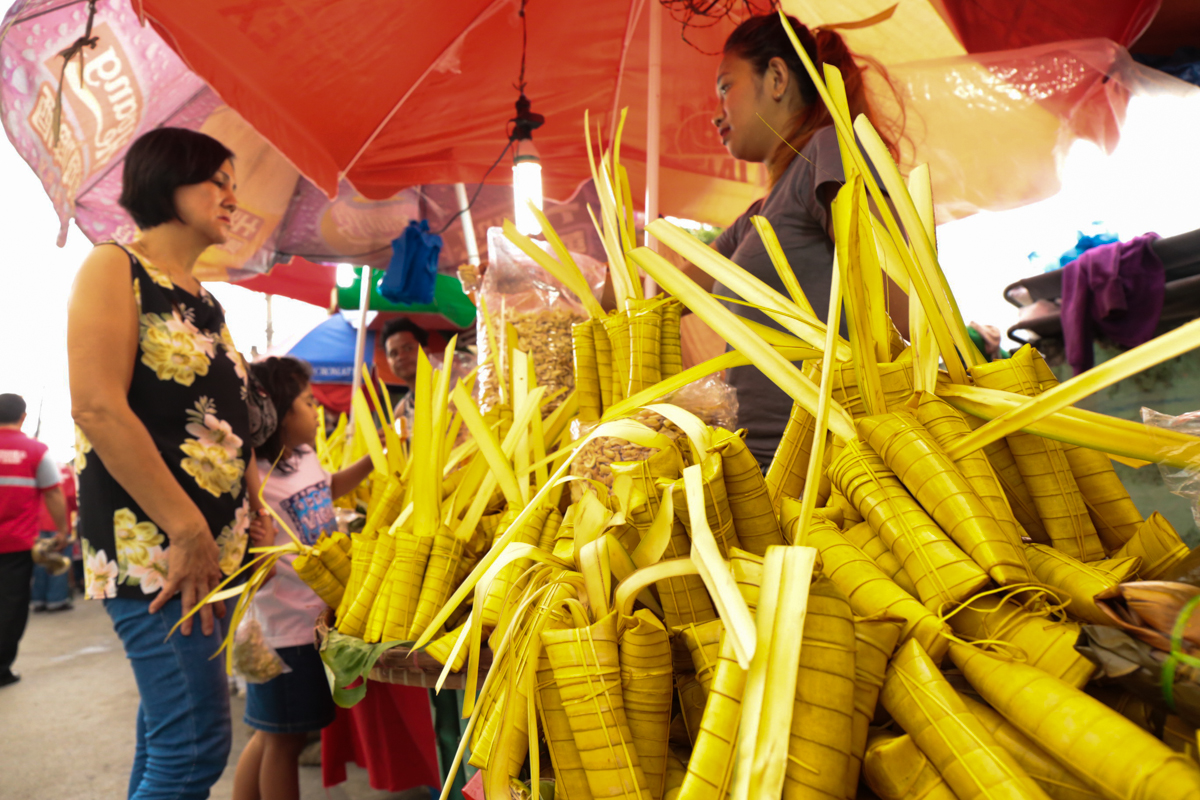 TIGHTLY WRAPPED The suman is a Filipino rice cake made of glutinous rice, wrapped in coconut leaves. It is best eaten along with cashew nuts. PHOTO BY RAFAEL DELFINO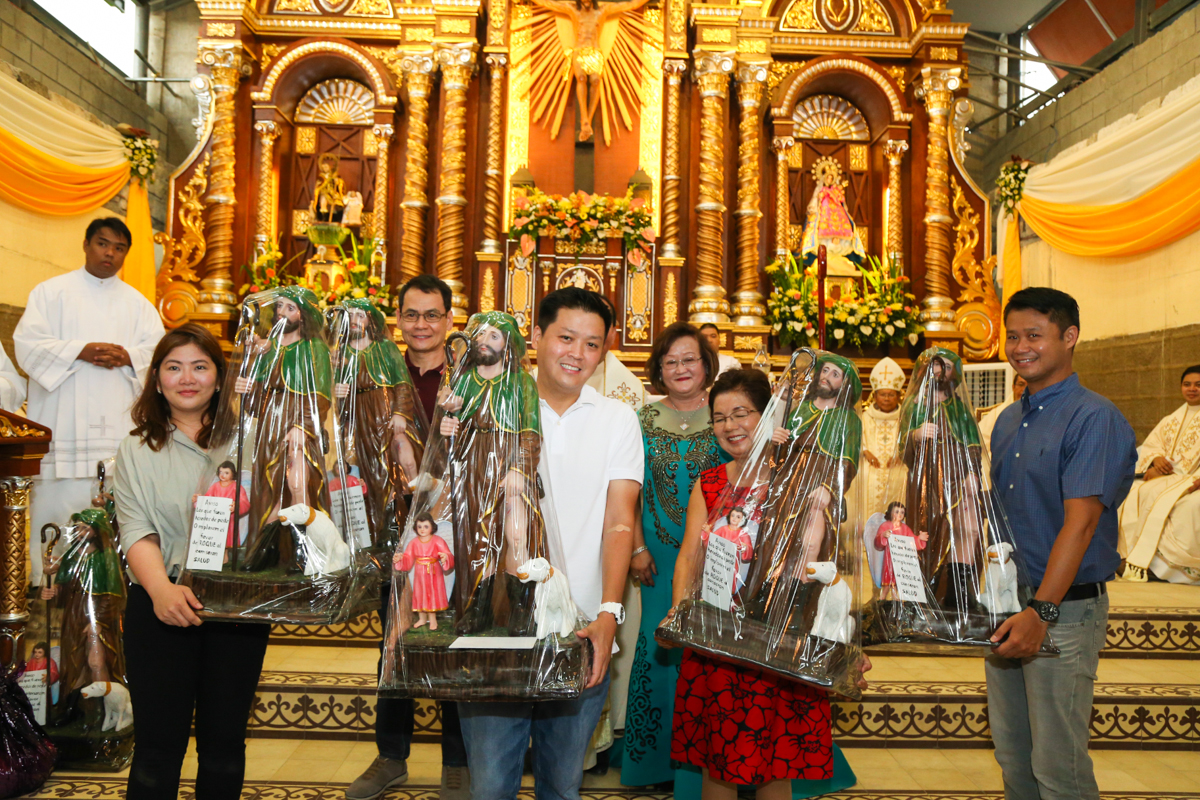 BEARER OF GODS City Mayor REX Gatchalian (third from left) and Senator Win Gatchalian (right) and festival sponsors hold images of San Roque for a photo opportunity, at the San Roque Chapel, May 12, 2016. PHOTO BY RODRIGO DE GUZMAN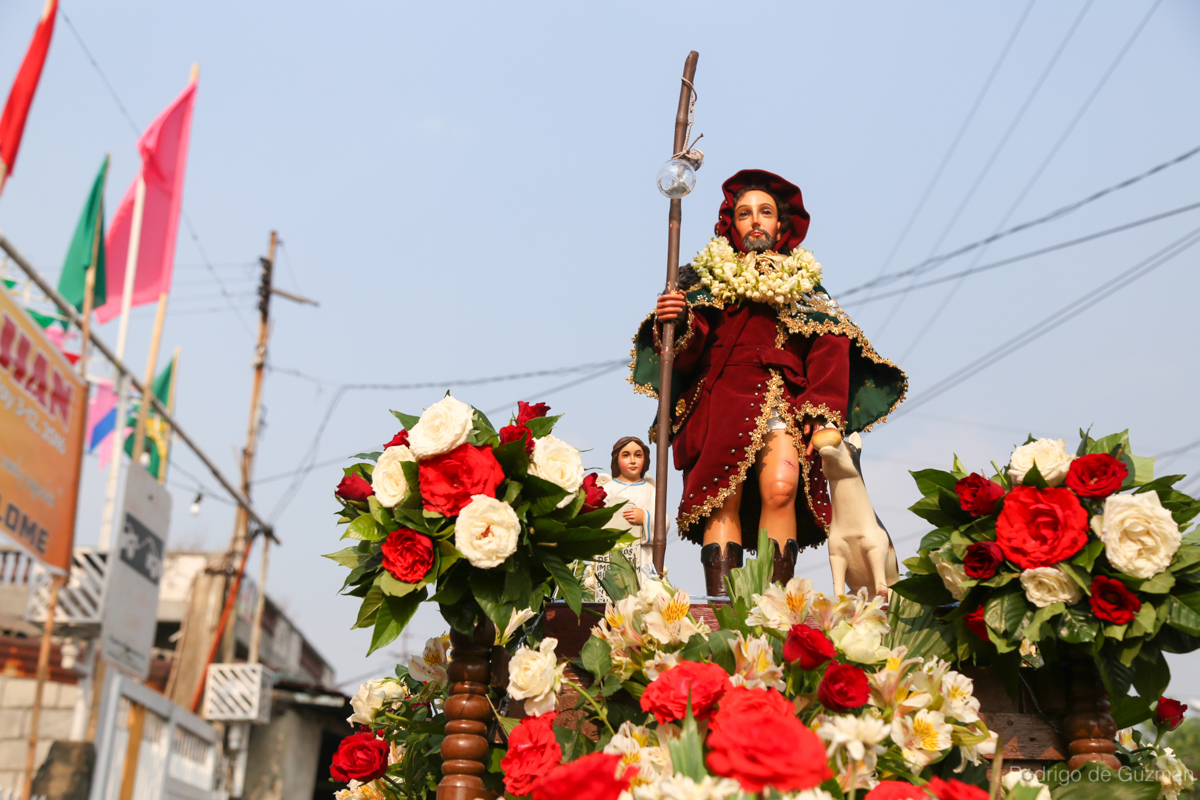 HEALER AND MATCHMAKER San Roque is often portrayed as a man in a friar's habit, lifting the hem to reveal a wound on his left leg, a dog sitting at his feet while an angel stood behind him. While commonly revered as the patron saint of the sick and dogs in many places, San Roque is also hailed in Valenzuela as the patron saint of the unmarried. PHOTO BY RODRIGO DE GUZMAN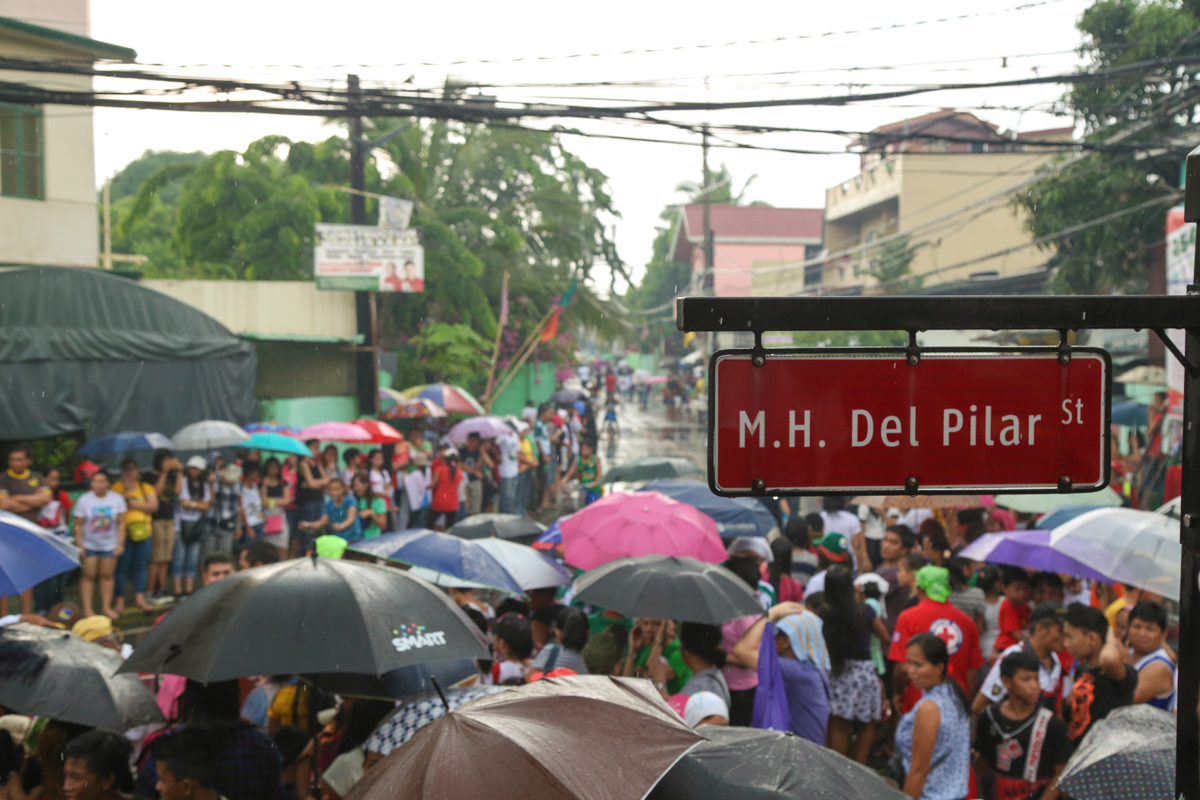 THE SHOW MUST GO ON Not even the rain can keep spectators from watching the street dance competition, May 12, 2016. PHOTO BY RODRIGO DE GUZMAN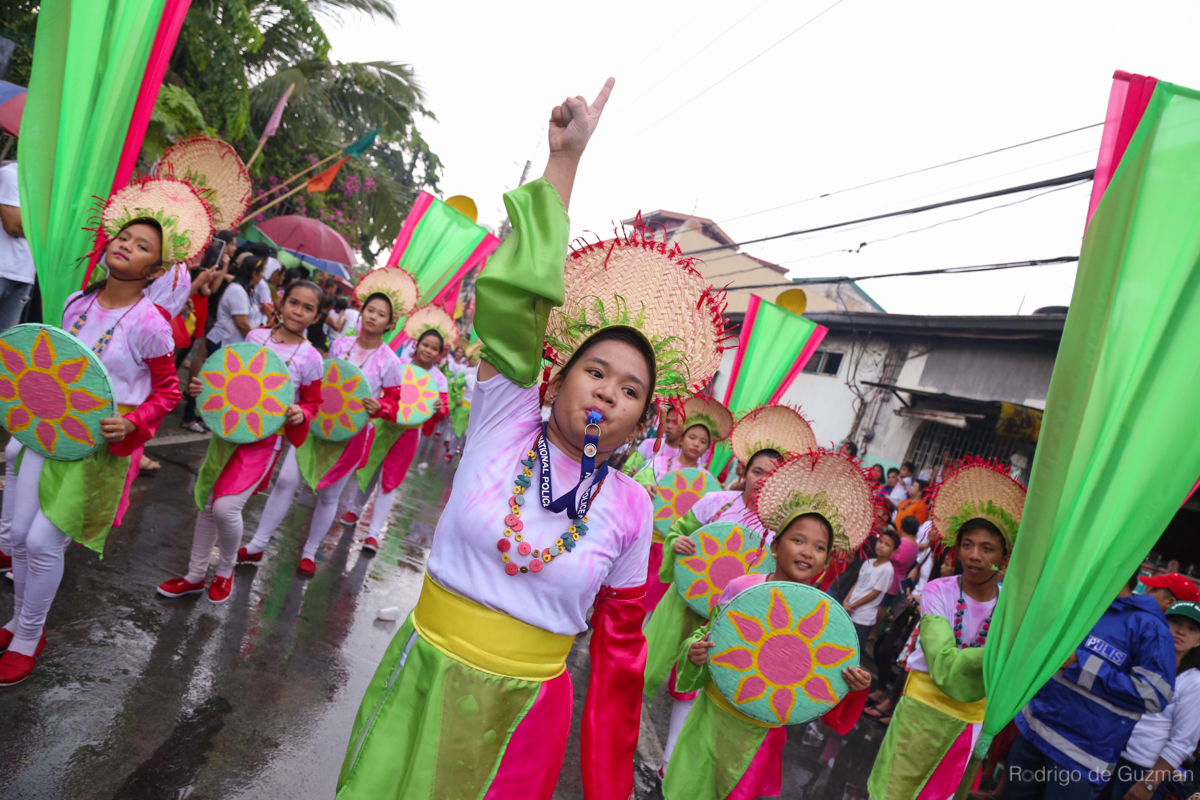 ON MY CUE Groups from schools and sociocivic organizations join the street dance competition. PHOTO BY RODRIGO DE GUZMAN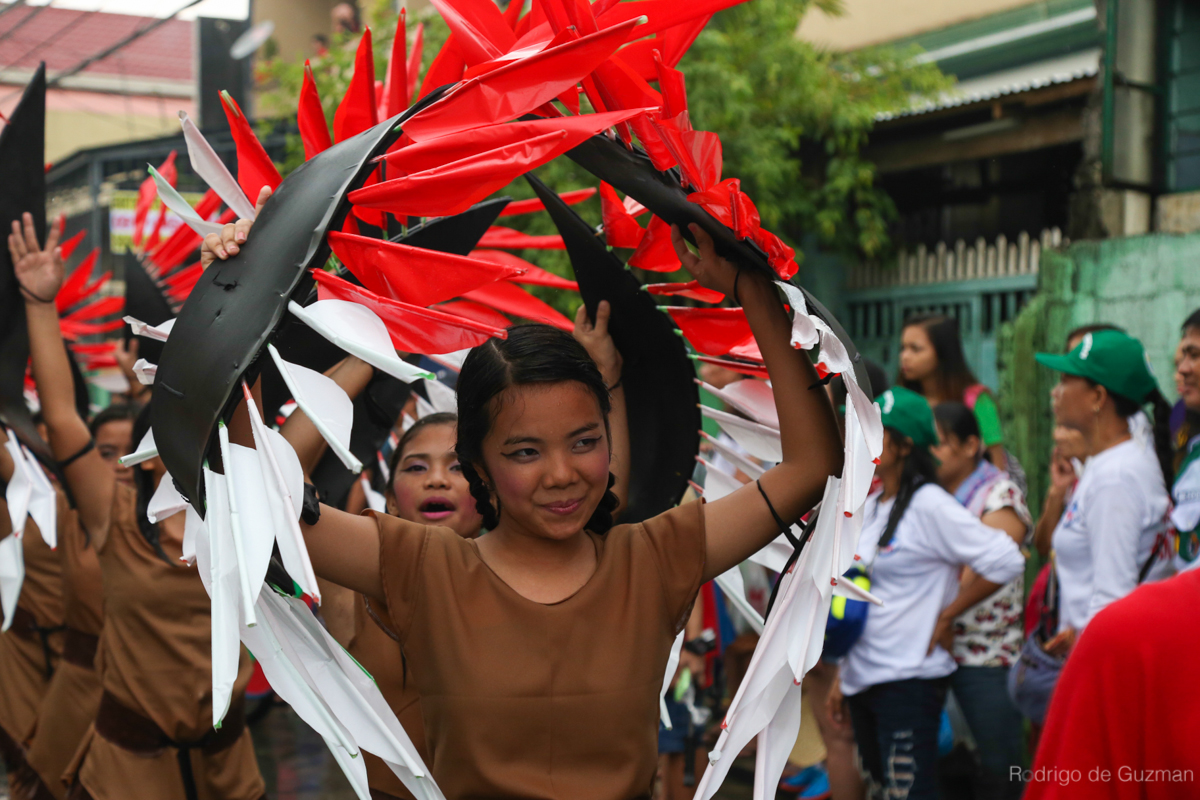 FLIGHTS OF CREATIVITY The street dance competition is also an opportunity to showcase people's ingenuity, such as these elaborately made wings worn by the dancers. PHOTO BY RODRIGO DE GUZMAN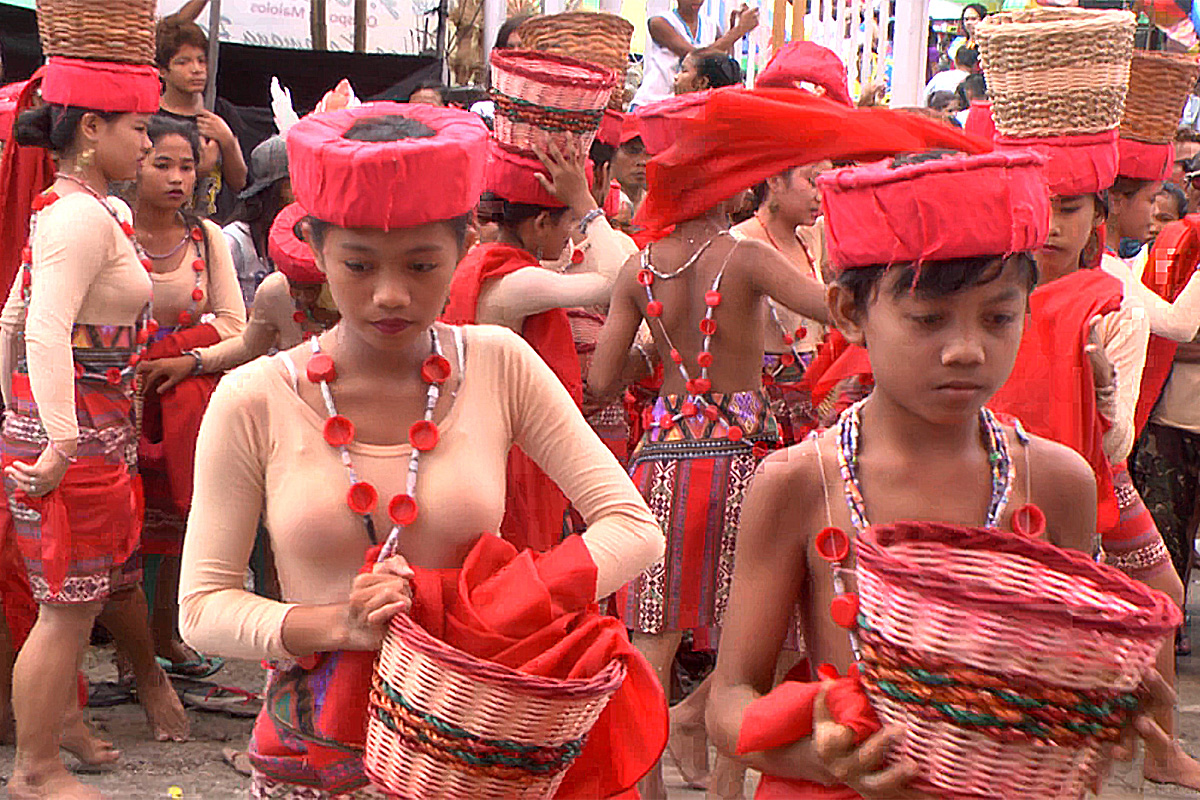 PANAGBENGA IN VALENZUELA An Ifugao-themed performance during the street dance competition. PHOTO BY RAFAEL DELFINO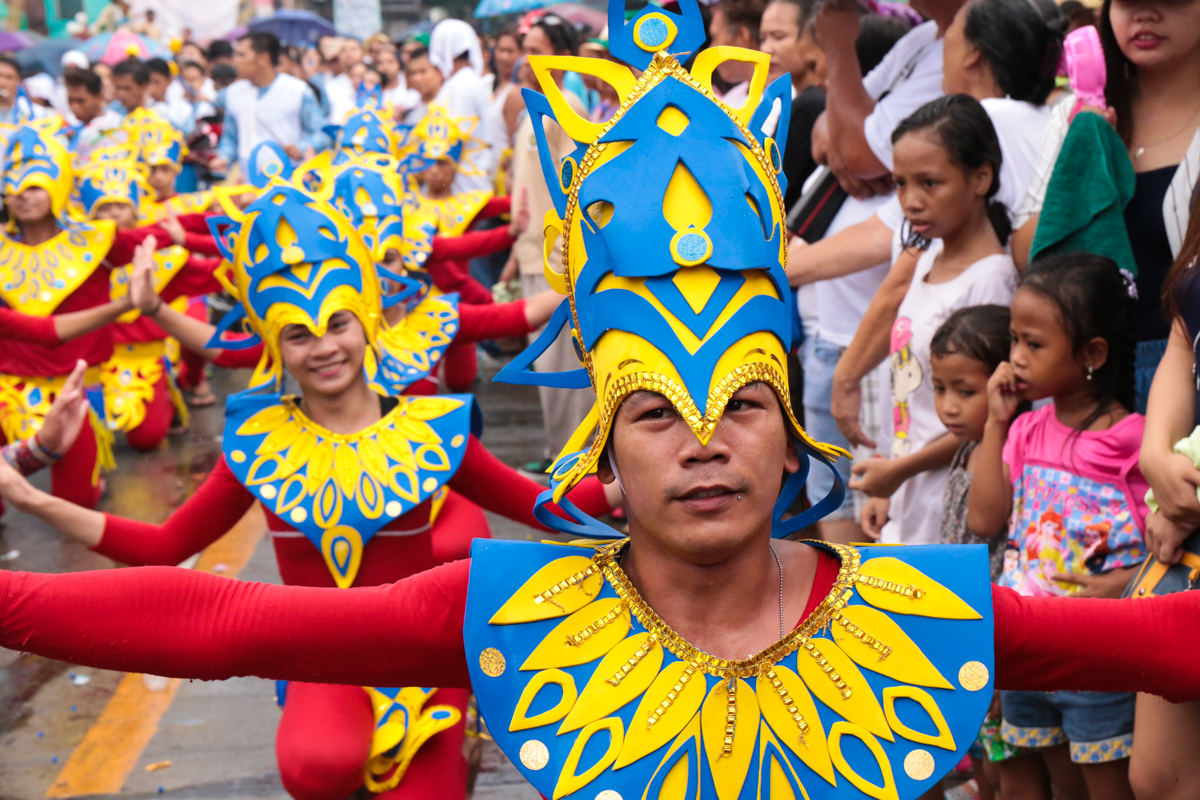 COLOR MY WORLD Dancers' costumes burst with colors, brightening what is otherwise a dreary day. PHOTO BY RAFAEL DELFINO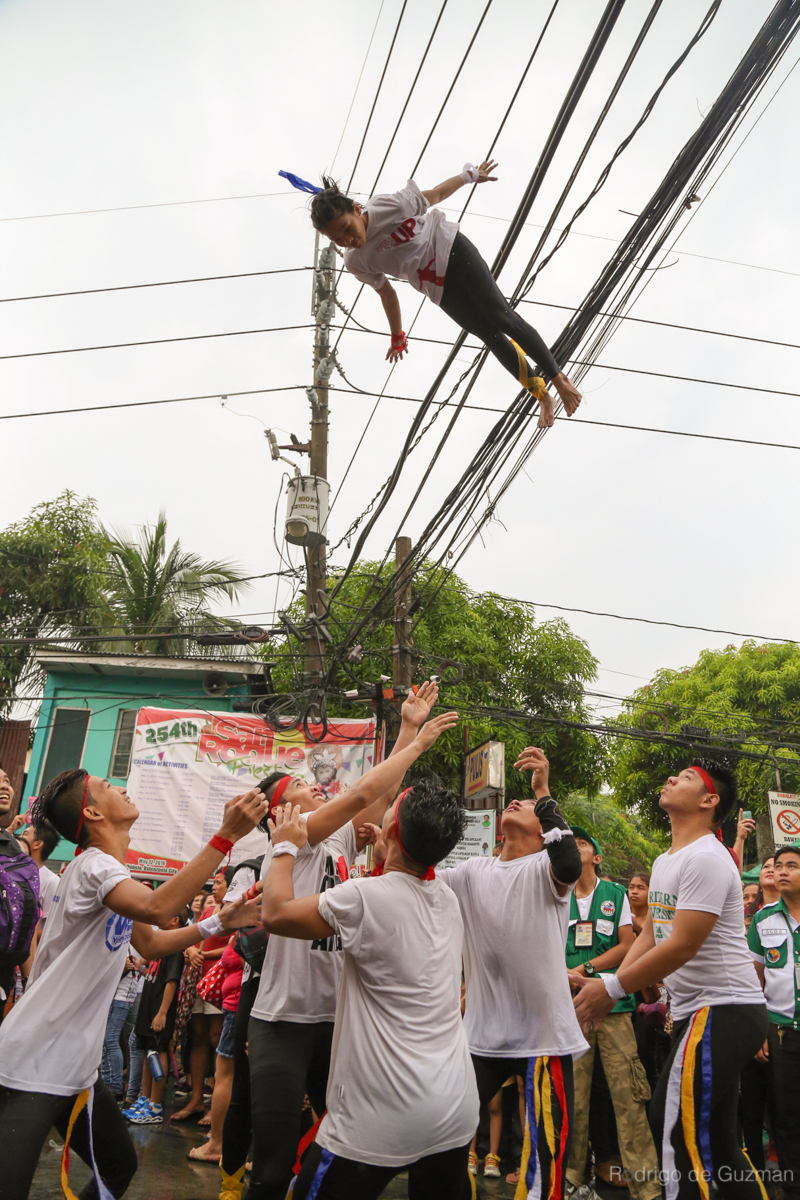 FALL FROM SPACE Performers prepare to catch one of their peers in this acrobatic dance routine. PHOTO BY RODRIGO DE GUZMAN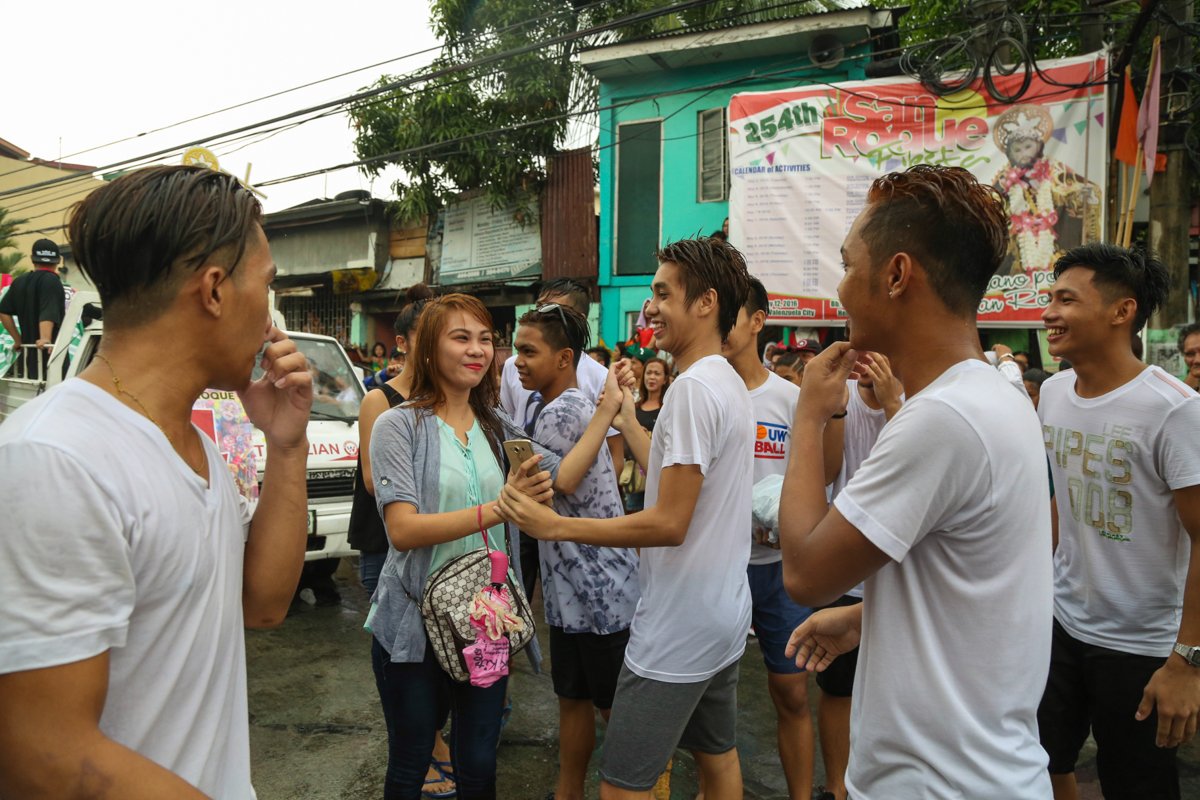 MATING RITUAL While the neighboring town Obando is known for its patron saints who grant childless couples their wishes, Valenzuela City has become a destination for singles in search of their significant others as San Roque is also known to be the patron saint of the unmarried. PHOTO BY RODRIGO DE GUZMAN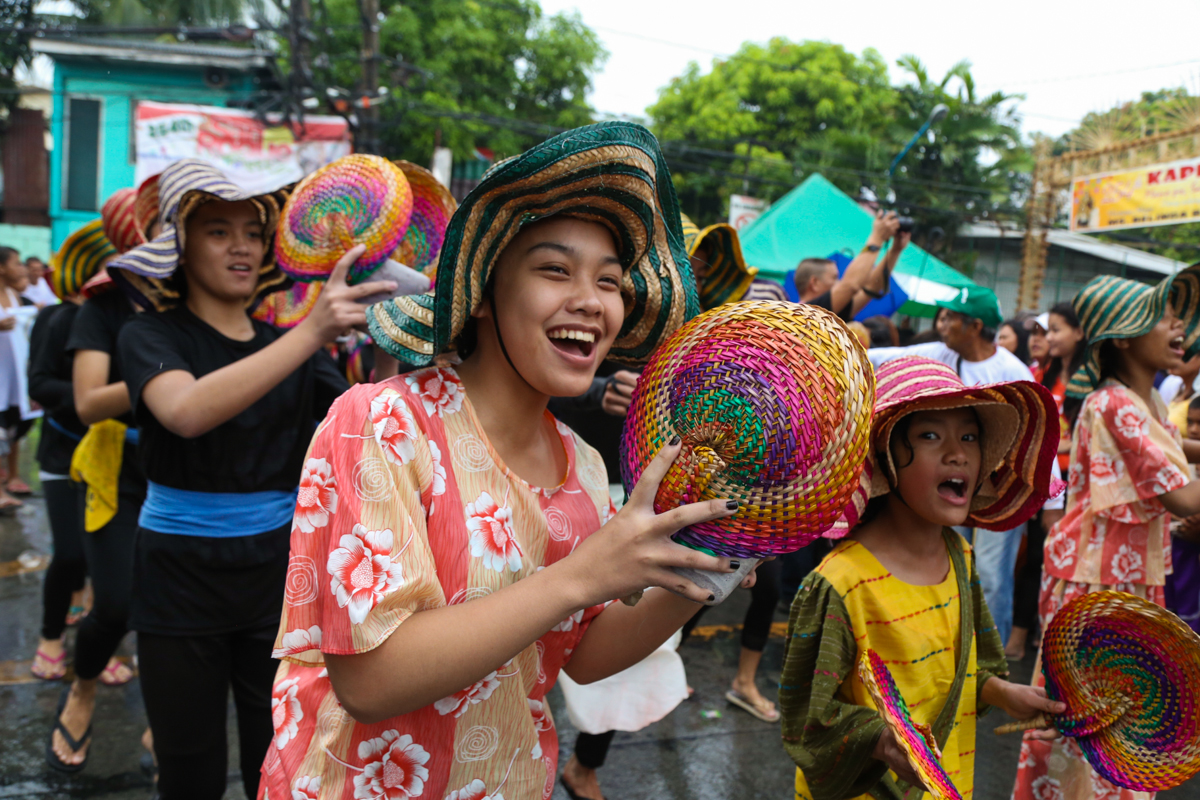 (NOT) A FAN DAY When the rain rendered fans useless as dispellers of heat, dancers found another purpose for them. PHOTO BY RODRIGO DE GUZMAN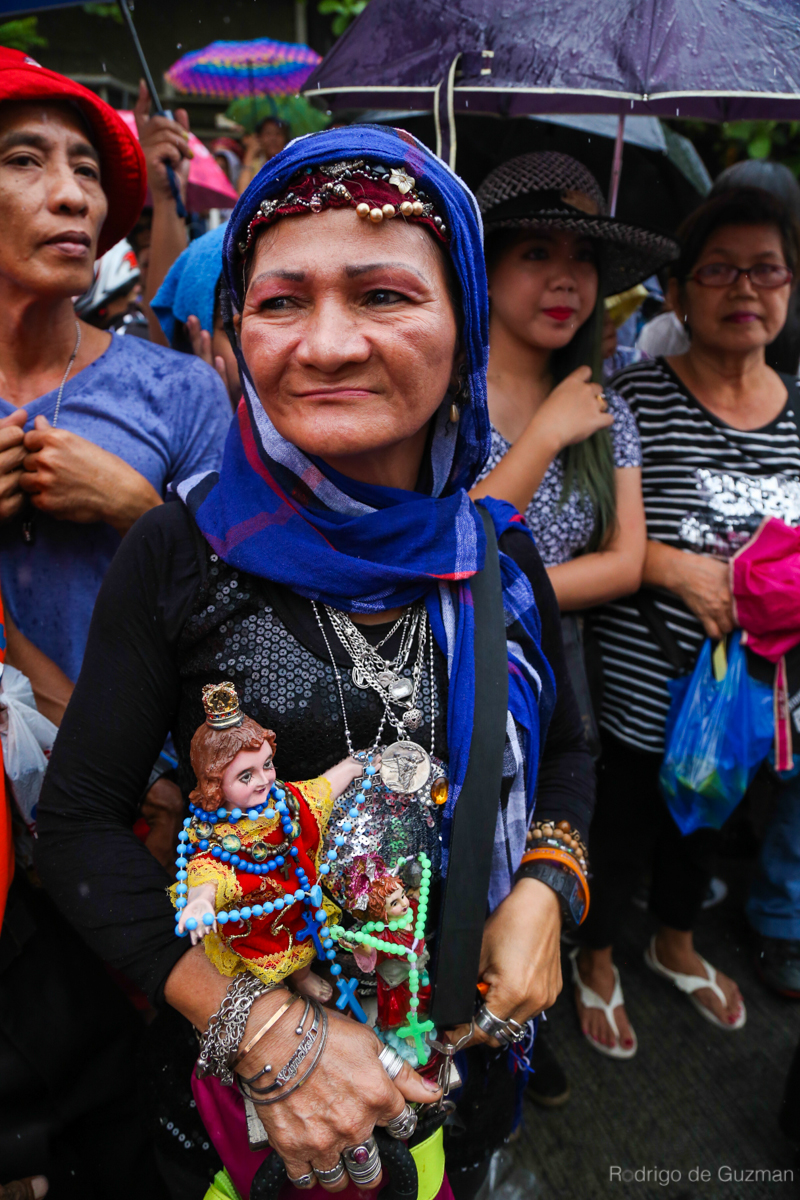 ECLECTIC A hodgepodge of accessories adorn a Santo Niño-bearing devotee. PHOTO BY RODRIGO DE GUZMAN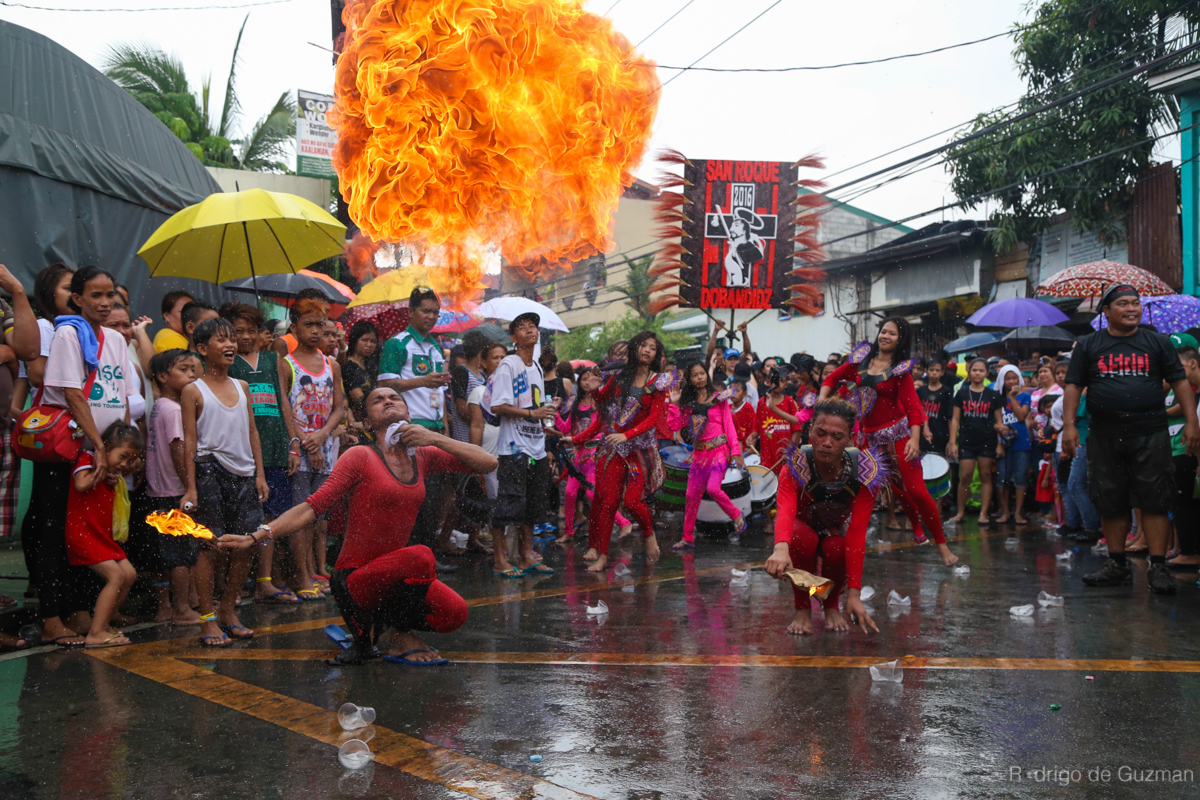 FIERY A performance by fire breathers provides the much needed warmth to a rain-soaked audience. PHOTO BY RODRIGO DE GUZMAN